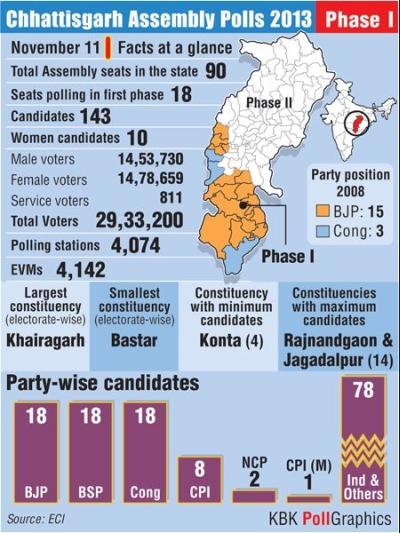 Re-polling at two booths in Antagarh assembly constituency in Chhattisgarh's Maoist-hit Kanker district will be held on Saturday, an official said on Wednesday.
Voting did not take place at these booths in the first phase held on November 11 due to naxal resistance. "The Election Commission has decided to hold re-polling in two polling stations -- Seetaram and Chote Pakhanjur -- of Antagarh seat (Kanker district) on November 23," an election commission official said.
On November 11, voting at these two booths was postponed after naxals opened fire on security personnel escorting the election parties towards their destinations, he said.
Timing of polling will be from 7:00 am to 3:00 pm, the official added. A record 75.53 per cent voting was recorded in the first phase for 18 constituencies of Naxal-hit Bastar division and Rajnandgaon district.
A Central Reserve Police Force jawan was killed and a policeman injured in separate naxal incidents in Bastar during the polling process. On November 12, two Border Security Force personnel and a civilian driver were killed when Naxals blew up their SUV near Kerlapal camp while troopers were returning after security deployment for polling in Sukma district.
The election for 90-member house was held in two phases on November 11 and November 19. Counting of votes will be held on December 8.