The question wafting in the winds over the Vaigai riverbed is, has Karunanidhi's elder son accepted his fate?
Rediff.com's A Ganesh Nadar and Saisuresh Sivaswamy find out.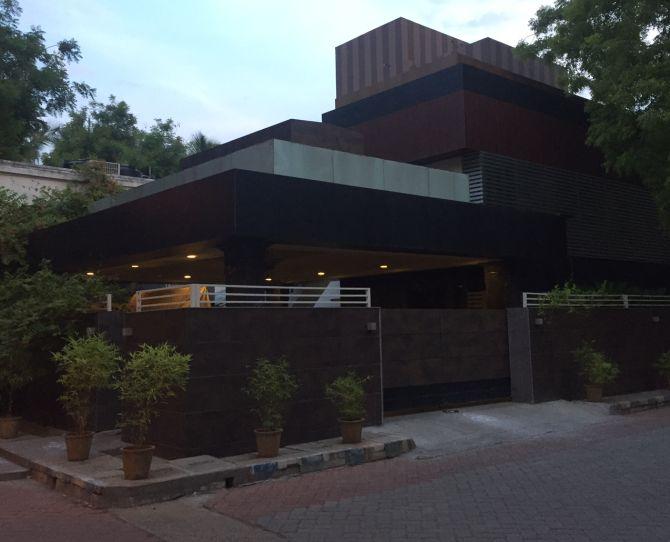 IMAGE: Hoping for a glimpse of M K Azhagiri at his bungalow in Madurai. Photograph: Saisuresh Sivaswamy/Rediff.com
Anjanenjaan means the man with a fearless heart, and that was the title they had given him. And once upon a time his kingdom stretched from Madurai all the way to Kanyakumari.
Whenever the emperor ruled in Chennai, he was in power in the southern satrapy as an overt king. And when the enemy ruled Chennai, he still retained power as the covert king.
Muthuvel Karunanidhi Azhagiri had power without responsibility, something not very unusual in Indian politics.
All that changed in 2009 when he stood for the Lok Sabha elections and won. Then he became a Cabinet minister in the Manmohan Singh government, since the Dravida Munnetra Kazhagam was an ally of the Congress.
Successful as a king without responsibility so far, he was a total failure as a Cabinet minister. Barring altering his spelling to enable northerners to get his name right, he did nothing of note. Worse, in 2009 he was the architect of the Thirumangalm by-elections in Madurai district which, while bringing victory to DMK, made Tamil Nadu infamous the world over and the after-effects of which are seen till today in the daily seizures of illegal cash meant to influence voters.
Unapologetic, Azhagiri also gave an interview to a national daily saying if he had Rs 1,500 crore (Rs 15 billion) he could win all the 234 seats in Tamil Nadu.
Though DMK chief M Karunanidhi has always made it clear that his political heir was his younger son M K Stalin, the elder Azhagiri never accepted this. He openly challenged Stalin for supremacy and was expelled from the party two years ago.
Azhagiri's penchant for mischief is well-documented. In the past, he has successfully sabotaged the elections against the DMK in the southern districts, all to show who was boss.
Naturally, in the region that was once under his thrall, given his silence since then, and inaction in this election, there is immense speculation about his intentions.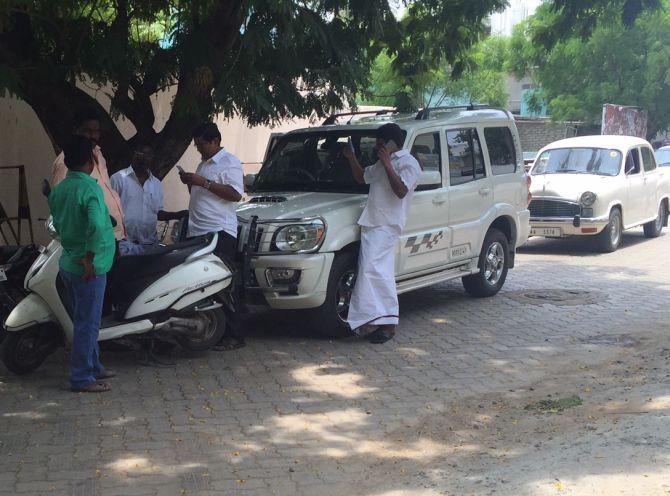 IMAGE: Azhagiri's supporters wait for hours and hours outside his bungalow hoping to get a chance to meet their leader. Photograph: Saisuresh Sivaswamy/Rediff.com
Has the Anjanenjaan finally been subdued, brought to heel by the man known as the Younger Lieutenant, his brother Stalin?
His followers, all in the DMK incidentally, who line up outside his residence regularly, refuse to buy the line. Azhagiri has been meeting his supporters regularly, and while the subject matter can be speculated upon, no one outside his home is willing to let on as to what is on their leader's mind.
Interesting men, these. Dressed in the mandated Tamil political attire of white shirt and white veshti with DMK colours as border, they arrive in cars, motorcycles and scooters to wait. Ostensibly to be called inside, you can make out Azhagiri's photograph in their shirt pockets. DMK workers usually carry Karunanidhi and Stalin's photographs.
They are not the only ones to assemble outside. The media has been visiting, too, OB vans in tow, with little effect. "Everyone is coming sir," says a man in the security detail outside. "Today aiyya called the team from Puthiya Thalaimurai TV and politely told them he cannot speak to them."
The second time round we were luckier. After sending our business cards inside, an aide scurried outside. "Aiyya odungi irukkaru (sir is staying away)," he says. "Therdhalukku appuram vaanga (please come after the elections)." Azhagiri simply was not meeting the media, although he was meeting people otherwise. On seeing our insistence, the aide relents to say that Azhagiri will speak to us on the phone after the elections.
A young man wearing the DMK colours was clearly among the chosen few. He was led inside almost immediately on arrival, and did not emerge in all the time we were there.
All of which fuels further speculation as to Azhagiri's intentions.
An indication can be sensed from the lively discussion among his supporters gathered outside as to what will happen on May 19. They were all sure that Chief Minister J Jayalalithaa would win although with a smaller margin. Is this what they believe, or is it what they want? And does their Thalaivar (leader) want the same outcome, too?
M L Raj, Leader of the Opposition in the Madurai municipal corporation and an Azhagiri man, says, "Thalaivar's message to the voters was that he was not supporting anyone, and they could vote for whoever they liked."
Reminded that the ruling party has never been re-elected in Tamil Nadu since 1991, the men were nevertheless certain that the All India Anna Dravida Munnetra Kazhagam will win. One, the women voters were still with Jayalalithaa and all her populist schemes like the one-rupee idlis were a huge success, and two, the AIADMK had already spread enough grease on the ground to ensure a smooth ride to power.
A senior journalist with a Madurai daily newspaper says, "Azhagiri has realised that he is a spent force in politics. He can only do mischief, something negative, and that too on a small scale. He has been forced to eat humble pie."
Unconfirmed reports say Azhagiri had in fact called for a meeting of his supporters, which was not attended by him but was conducted by one of his loyalists, at which they were told to vote for the AIADMK. A clash broke out over this 'treachery', and most of them walked out of the meeting.
While that points to his political isolation, the belief among his followers is that he decided to lie low and let the DMK project Stalin as the future for the voters to choose. If the results on May 19 show the DMK's rejection, he will make his move. Else, the Anjanenjaan will have to lick his wounds.