Assam was the most crucial state for the BJP, since the north-east has now been thrown open.
With its electoral debut in Kerala, the party's footprint now extends from Assam to Gujarat, Kashmir to Kanyakumari.
The Congress has been reduced to a C player in national politics thanks to its inability to read the pulse of the people, says Rashme Sehgal.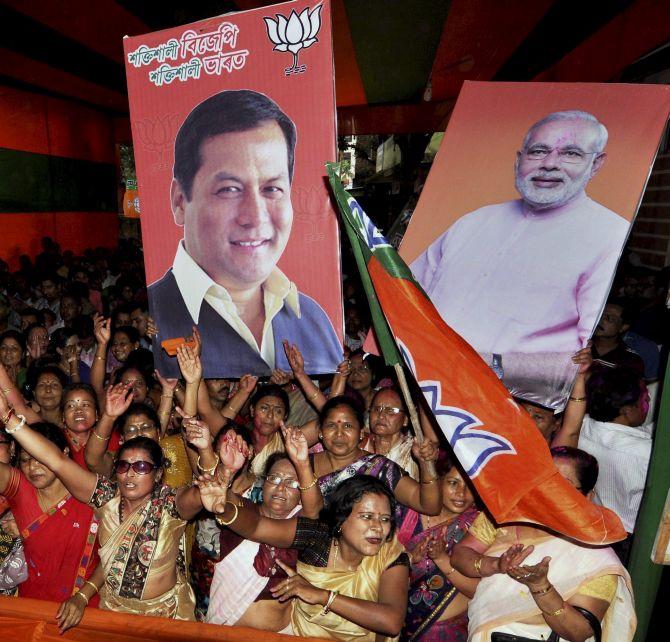 Even as Assam scripted a first-time victory for the Bharatiya Janata Party, the day has been won by two feisty and mercurial chief ministers, Mamata Banerjee, who has ridden roughshod over the Left-Congress alliance in West Bengal, and J Jayalalithaa who has scripted a magnificent victory over arch-rival DMK.
Kerala, true to style, has seen the Left Democratic Front knock out the Congress-led United Democratic Front, leaving Puducherry as the only state to usher in a Congress-DMK victory.
Assam was the most crucial state for the BJP, especially since it provides a gateway to the north-east. The BJP's thumping victory, winning 86 seats against the Congress' 26 and the AIUDF's 13 seats was achieved by stitching together a social coalition with local satraps, and successfully wooing over Chief Minister Tarun Gogoi's most trusted aide Himanta Biswa Sarma, who was the chief architect of the Congress victory in 2001.
Sarma has in the last six months helped stitch together a rainbow coalition of the BJP, Asom Gana Parishad, Bodo People's Front and other tribal parties which played a key role in ending Gogoi's 15-year run.
Sarma did not mince words when he went public on how he had warned Congress Vice-President Rahul Gandhi not to allow dynasty politics to enter Assam. He was making a reference to 80-year-old Tarun Gogoi promoting his son Gaurav for the chief ministerial post. Rahul failed to heed his advice and the result is that Sarma's coalition for the other side has won a two-thirds majority.
The BJP's CM candidate Sarbananda Sonwal, currently the Union minister of sports and youth affairs, admits he will have a difficult task balancing the aspirations of the state's Muslim, Assamese Hindu, Christian, Bodo and tribal populations. The focus of his government will be to end the unabated influx of Bangladeshis which has rendered the local people into a microscopic minority.
One of the first steps his government plans to do is seal the India-Bangladesh border and also update the National Register for Citizenship, currently being monitored by the Supreme Court, to ensure the names of all illegal immigrants be deleted.
Mamata's (or Didi, as she likes to be called) slogan of 'ma-maati-manush' has seen her secure a massive mandate. Didi has been the star campaigner right throughout and her bankability with the people has ensured that controversies like Saradha, Narada and others raised by the Opposition have all fallen on the wayside.
Following her victory, Didi claimed there had been no corruption in her government. She also hinted at the setting up of a joint federal front in which she was willing to partner with Naveen Patnaik, Chandrababu Naidu, Lalu Prasad Yadav and Nitish Kumar.
Making a direct jibe at Rahul Gandhi, she said he has proved to be Prime Minister Narendra Modi's USP and expressed her contempt at the Congress for having joined hands with the Left, a move that was pushed by Communist Party of India-Marxist leader Sitaram Yechury but opposed by CPI-M hardliners. This coming together has dented the Left's vote bank and its tally has come down to 28 seats while the Congress has emerged as the number two party in the state with 44 seats.
Another leader who has ducked the anti-incumbency jinx was Jayalalithaa who fought back and won this round. Soon after she won the election, Jayalalithaa described it as as a 'truly historic victory because no political party after 1984 has won an assembly election for a second time in a row.'
Some of her success has come about through all the freebies that she has offered such as free rice, cheap food canteens, potable water, grinders and mixers for women, bicycles and laptops and even spectacles for girl students. On March 1, she even launched a series of Amma healthcare initiatives worth over Rs 10 crores (Rs 100 million). But credit must be given to her decision to go it alone because she gave little credence to Vijayakanth's Desiya Murpokku Dravida Kazhagam as also the People's Welfare Front steered by Vaiko of the Marumalarchi DMK. M K Stalin had also wanted his party the DMK to go it alone, but his father M Karunanidhi shot down this proposal.
Both women leaders emphasised how their lives were dedicated to the people of their respective states though the two leaders follow completely different lifestyles.
In Kerala, the LDF has come to power along expected lines since the state follows a yo-yo style of politics with power changing from one political formation to another at each election. The CPI-M was confident they would win since the last panchayat elections had seen the LDF defeat the UDF. Political observers believe there will be a tussle for supremacy between the Left's tallest leaders V S Achuthanandan and Pinarayi Vijayan, but given the former's age (he is 93), there is a possibility Pinarayi may get the top post.
Congress leaders now believe that the key states of Assam and Kerala were lost primarily because both Gogoi and Oomen Chandy were wrong choices. Chandy's tenure as chief minister was overshadowed by a series of scams and controversies and Gogoi was also seen as being able to bring nothing new to the state.
The BJP has finally opened its account in Kerala, a state which has the highest number of RSS shakhas. Sitaram Yechury told the media that this single BJP seat had been gained by the transfer of UDF votes.
Congress leader Mani Shankar Aiyar defended his party, admitting that while they had done very poorly in Assam, 'in West Bengal, our vote share has gone up and so has been the case in Tamil Nadu. In Kerala, we expected to lose though in Puducherry we have won. We can hardly be described as a shrinking party.'
BJP President Amit Shah told a press briefing that the Assam results were a referendum on the Modi government which will complete two years in power next Thursday, May 26. Sounding upbeat, Shah said the BJP has emerged as a pan-Indian party and moved a step closer to making a Congress-mukt Bharat.
The Congress has been reduced to a C player in national politics and its inability to follow the pulse of the people has seen it being defeated by both regional satraps and the BJP.
IMAGE: BJP workers with a huge poster of chief ministerial candidate Sarbananda Sonwal and Prime Minister Narendra Modi as they celebrate the party's historic win in Assam. Photograph: PTI Photo