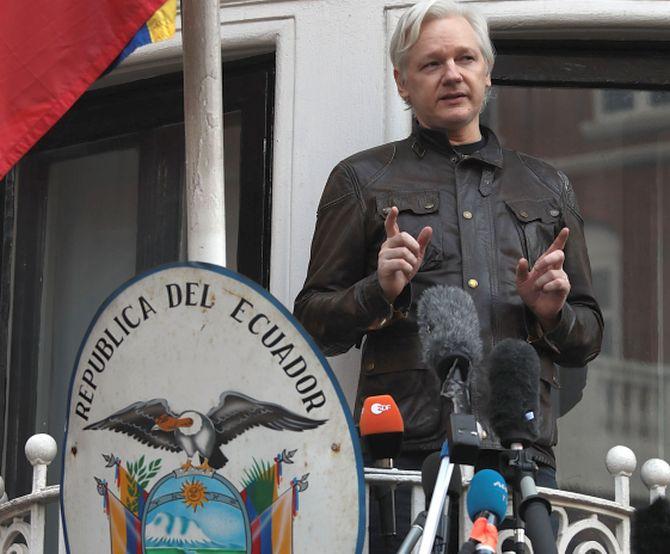 In a setback to Julian Assange, a British court on Tuesday ruled that an United Kingdom arrest warrant against the WikiLeaks founder was still valid, signalling that he could be arrested if he tries to leave the Ecuadorian embassy in London where he has been holed up since 2012.
A handful of supporters waving "Free Assange" banners had gathered outside Westminster Magistrates Court in London in anticipation of the ruling in the high-profile case involving the 46-year-old Australian national.
But the judge ruled that it was "not uncommon" for a warrant for failing to surrender to remain valid when there were no underlying proceedings pending.
Chief Magistrate Emma Arbuthnot, the judge who is currently also presiding over the extradition trial of liquor tycoon Vijay Mallya -- the next hearing date for which is expected in mid-March, had reserved her judgment in the Assange case last month.
"Once at court, a defendant will be given an opportunity to put an argument for reasonable cause. And that is when Assange will be able to place that before the court. I'm not persuaded that the warrant should be withdrawn," she noted on Tuesday.
However, the hearing carried on as Assange's lawyers continued to argue further points.
"We are arguing four points. If we lose the first point then we will move on to argue the rest today," tweeted Assange, who will have the option to appeal against Tuesday's ruling.
At a previous hearing, she had expressed her concerns over the health of WikiLeaks founder Julian Assange, who has been holed up in the Ecuador embassy in London since he sought asylum there nearly six years ago.
Assange's lawyers had made a plea to cancel a pending Metropolitan Police arrest warrant against the campaigner after he failed to appear before court in June 2012. They argued that the only thing stopping the 46-year-old from leaving the building is a threat that he will be arrested by Scotland Yard for breaching bail conditions.
As proceedings in Sweden over rape allegations have now been dropped, they argued that the British arrest warrant had lost its purpose.
"I am particularly concerned that there are some medical issues. I am aware that he has depression, frozen shoulder and a terribly bad tooth," the judge had previously said.
The European Arrest Warrant on rape charges against Assange was lifted in May last year but Scotland Yard had confirmed a British arrest warrant dating from 2012 remains in place, which they were obliged to execute should the campaigner step out of the embassy.
Image: WikiLeaks founder Julian Assange has been holed up in the Ecuadorian embassy since 2012. Photograph: Jack Taylor/Getty Images