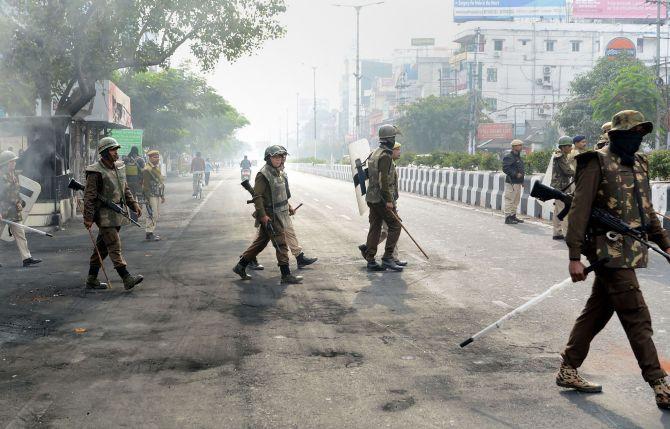 At least 106 passenger trains were either cancelled or short-terminated by Northeast Frontier Railway (NFR) in view of disruptions in train movement following protests against amended Citizenship Act since Wednesday, the NFR said in a statement said on Friday.
The NFR has cancelled up and down Guwahati-Dimapur BG Express, Sealdah-Agartala Kanchanjungha Express and the Howrah-Dibrugarh Kamrup Express that were supposed to operate on Friday and Saturday, the NFR statement said.
Some trains such as Guwahati-Jorhat Janshatabdi Express, up and down Tinsukia-Naharlagun Intercity Express, Rajendranagar-New Tinsukia Express, Sealdah-Silchar Kanchanjungha Express, have been cancelled on Saturday.
The Jorhat-Guwahati Janshatabdi Express, Bangalore-Agartala Humsafar Express, up and down Dibrugarh-Dekargaon Special, up and down Lumding-Tinsukia passenger, up and down Dimapur-Mariani passenger, up and down Simaluguri-Dibrugarh passenger and Jorhat-Tinsuka passenger have also been cancelled on Saturday.
The statement also said that trains from Ledo to Dibrugarh and back, Dibrugarh to Dangri and back, up and down New Tinsukia-Rangiya Intercity Express and the Rangiya-New Tinsukia Intercity Express, Tinsukia-Jorhat passenger, up and down Dibrugarh-Murkongselek passenger would not be operated on Saturday and Sunday.
The Rajdhani Express which left New Delhi on December 12 has been short-terminated.
Services between between Guwahati and Dibrugarh will remain partially cancelled.
The Dibrugarh-New Delhi Rajdhani Express of December 16 will remain partially cancelled, the release quoted NFR Chief Public Relations Officer Subhanan Chanda as saying.
In addition, the Chandigarh-Dibrugarh express which left Chandigarh on December 11 will be short-terminated at Guwahati and will remain partially cancelled between Guwahati and Dibrugarh, while the Dibrugarh-Tambaram Express of December 15 will remain partially cancelled between Dibrugarh-Guwahati.
It will start from Guwahati on December 17, the CPRO said.
The Tripura Sundari Express will operate as a passenger special from Badarpur to Agartala with stranded passengers, he said.
The up and down Dharmanagar-Silchar passenger and Agartala-Dharmanagar passenger of Saturday were restored, Chanda added.