PM Modi appealed for calm and sought to assuage the concerns of protesters, insisting his government was committed to safeguard their rights.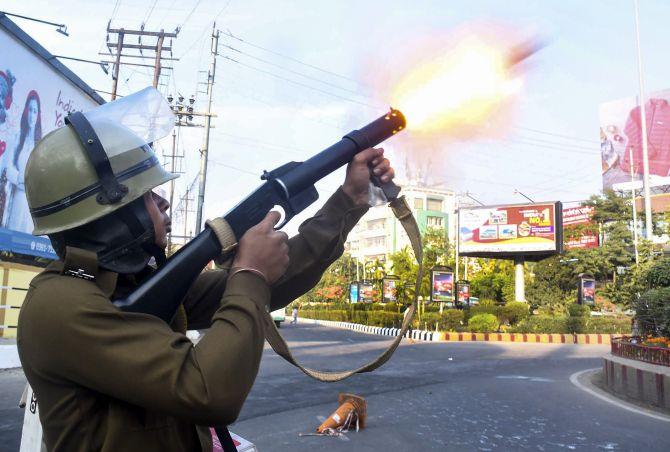 Assam, the hotbed of anti-Citizenship (Amendment) Bill protests, was on edge on Thursday as thousands of angry protesters came out on streets defying curfew, thumbing their nose at Army contingents staging flag marches, and clashing with police across cities.
At least two persons died due to bullet injuries on Thursday after police opened fire on protesters in Assam's Guwahati, officials said.
An official of the Gauhati Medical College and Hospital told PTI that one person was 'brought dead' and another succumbed to injuries while undergoing treatment.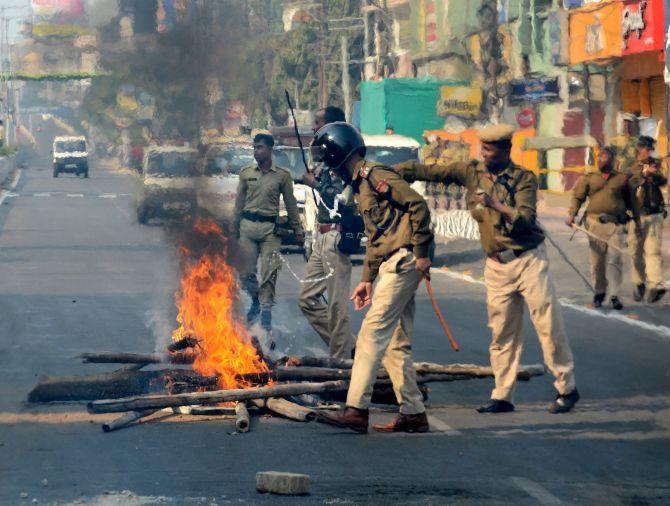 The official, however, could not give their names, saying that 'they were brought unidentified'.
Incidents of police firing were reported from several places in Guwahati including Hatigaon, Lachitnagar, Bashishta, Downtown, Ganeshguri and Lalungaon.
Frenzied mobs blocked roads with burning discarded tyres and menaced commuters by bludgeoning their vehicles with sticks and stones.
Stones were also thrown at Assam Police chief Bhaskar Jyoti Mahanta's convoy when he was touring Guwahati.
The cavalcade of the director general of police was on the Guwahati-Shillong Road near Christian Basti where it was attacked.
Stones were thrown at several vehicles in the convoy that was on its way from the Secretariat.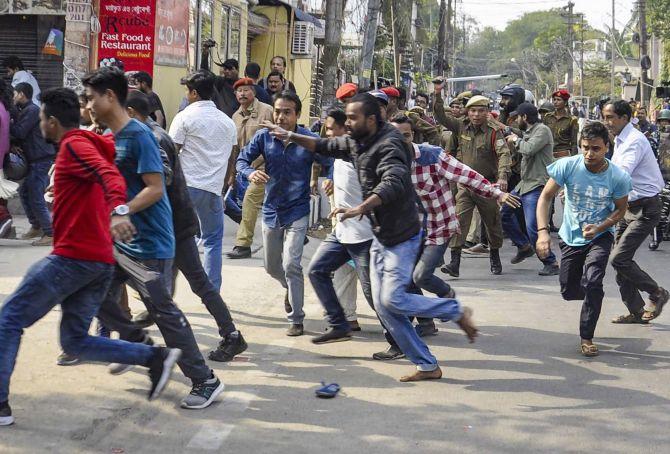 The convoy had to stop several times as the entire stretch was blocked by protesters who put up wooden structures and iron barricades.
When the vehicles stopped in the Christian Basti area and security personnels were clearing the road, some protesters threw stones.
No one was hurt and no damage occurred.
The Director General of Police appealed to people to exercise restraint and not to take the law into their hands.
He also urged to the electronic media not to show provocative visuals or reports.
He said that many 'lumpen elements' and people with political connections are trying foment disturbances in the state, where the army has been called in three districts besides the state capital.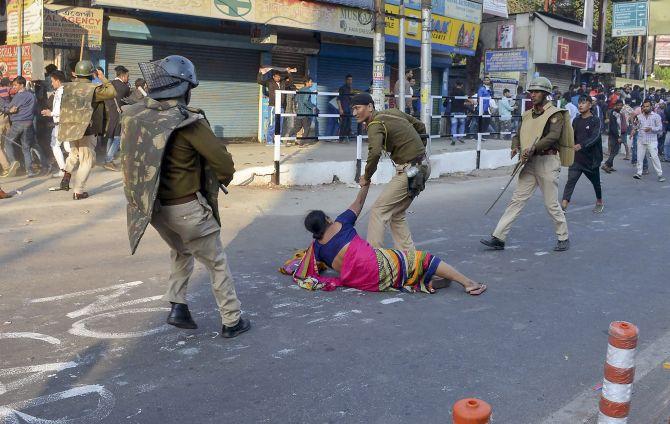 "We do not have anything to say if the protests are democratic. But I am appealing to the people not to take the law into their hands to create disturbances," Mahanta told PTI.
"The attacks (by the protesters) that are taking place are not good and there will be problem if people take law and order into their hands," he added.
Additional Director General of Police (Law and Order) G P Singh said that the law must be adhered to and those who break the law will face action.
As curfew is in force in Assam people must follow the law and stay indoors till it is lifted, he said.
Singh, who was serving as inspector general of police of the National Investigation Agency in New Delhi, was rushed to Guwahati on Thursday to take charge as the ADGP (Law and Order) from Mukesh Agarwal.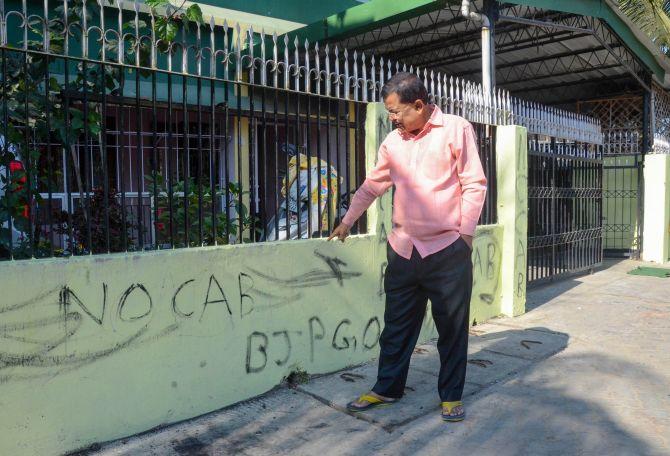 All incidents are being video-graphed and those indulging in violence will be identified and action will be taken against them as per the law, he said, adding the future
of the protesting students may be at stake.
"The students are involving themselves in the protests emotionally but they must realise that there will be no gain from this. It will only jeopardise their future," Singh said.
The IGP urged the parents and guardians of the protesting students to explain to them the futility of their actions and the probable consequences.
Prime Minister Narendra Modi appealed for calm and sought to assuage the concerns of protesters, insisting his government was committed to safeguard their rights.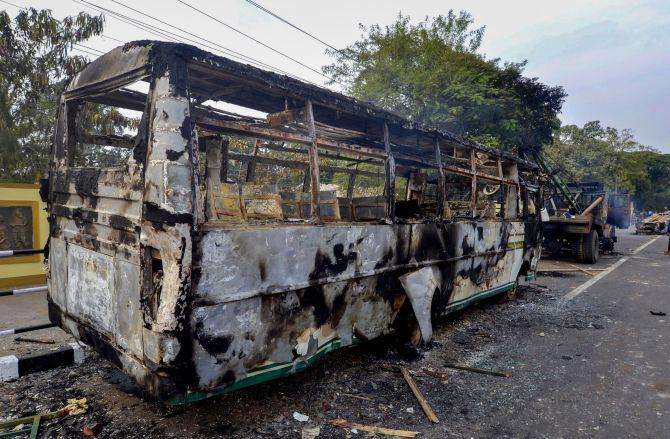 In a series of tweets, in both Assamese and English, the prime minister said he personally and the Central government are 'totally committed to constitutionally
safeguard the political, linguistic, cultural and land rights of the Assamese people as per the spirit of Clause 6'.
Clause 6 of the Assam Accord guarantees safeguarding local rights, language and culture.
'I want to assure my brothers and sisters of Assam that they have nothing to worry after the passing of #CAB (sic),' PM Modi wrote on the microblogging site.
'No one can take away your rights, unique identity and beautiful culture. It will continue to flourish and grow,' he wrote as the state plunged deeper into chaos and violence.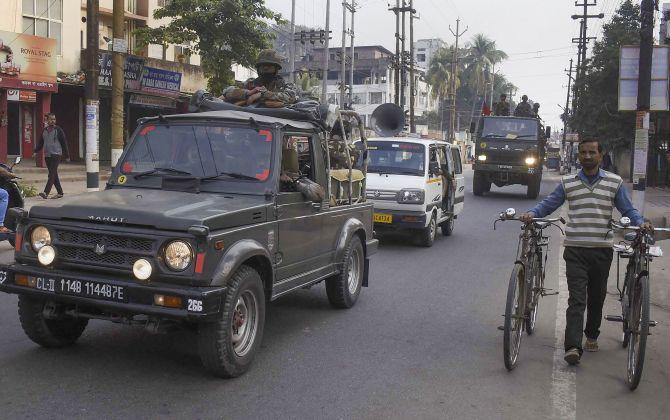 Notwithstanding his words of comfort, internet services in 10 districts were suspended for another 48 hours beginning 12 pm to prevent 'misuse' of social media to disturb peace and tranquility, and to maintain law and order, officials said.
Internet services will remain suspended in Lakhimpur, Dhemaji, Tinsukia, Dibrugarh, Charaideo, Sivasagar, Jorhat, Golaghat, Kamrup (Metro) and Kamrup, Additional Chief Secretary (Home and Political department) Sanjay Krishna told PTI.
Governor Jagdish Mukhi also appealed to the people to maintain peace.
In a statement, Mukhi urged them to 'maintain restraint as they have always shown patience and political maturity in the past'.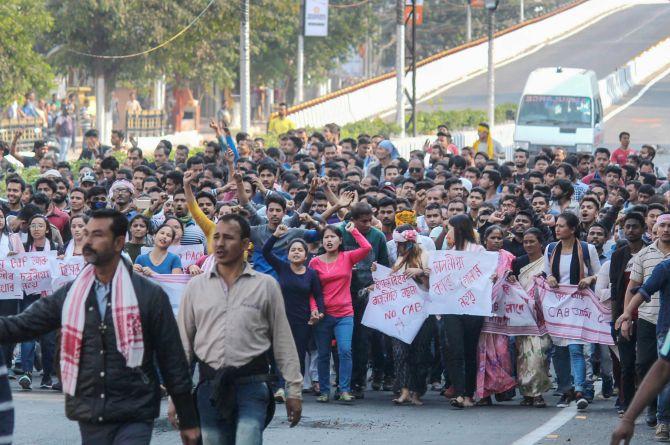 'If the student community has any issues against the government they have every right to agitate but they should do it in a democratic and peaceful manner, without taking the law in their hands,' he said.
Mukhi said the approval of the Bill by Parliament has shown that the Centre is committed to taking remedial steps, including implementation of the Clause VI of the Assam Accord to safeguard the culture, ethos, language, along with other rights of the indigenous people.
The Governor further appealed that no citizen should damage public property in the interest and development of the state.
Headquarters of the Asom Gana Parishad in Guwahati's Ambari area was also attacked by protesters, police said.
The protesters went inside the building, located on the Gopinath Bordoloi Road in the heart of the city, and smashed a few window panes and damaged the property, they said.
Several vehicles, including those of the police, parked outside the building were also vandalised, they added.
Officials said police then had to baton-charge the agitators. Several teargas shells were also lobbed.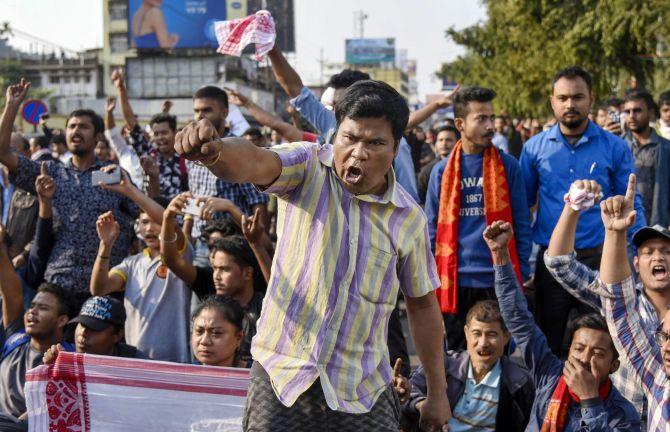 The Railways has suspended all passenger train services in Tripura and Assam and short-terminated long distance trains to the region at Guwahati, a railway spokesperson told PTI in New Delhi on Thursday.
The decision was taken on Wednesday night in view of the security situation in the region, Northeast Frontier Railway spokesperson Subhanan Chanda said, adding many passengers are stranded in Kamakhya and Guwahati.
After a railway station in Dibrugarh's Chabua, the hometown of the Assam Chief Minister Sarbananda Sonowal, was set on fire late Wednesday night besides the Panitola railway station in Tinsukia, 12 companies of the Railway Protection Special Force (RPSF) have been dispatched to the region, RPF chief Arun Kumar told PTI in the national capital.
"Passengers are stranded and we are trying to help them as much as possible. We are mulling to run special trains to ferry these passengers, but are still weighing if the risk is worth it.
"It might be a security threat for passengers if protesters stop the trains. As of now all passenger trains have been suspended and trains from outside the region are being short terminated at Guwahati," Chanda said.
An unspecified number of flights to the northeast including Guwahati were rescheduled or cancelled, an official of the Kolkata airport said.
As protests continued, The Information and Broadcasting ministry issued an advisory to private satellite TV channels to be cautious about airing content is likely to incite violence, promote anti-national attitudes and contain anything affecting the integrity of the nation.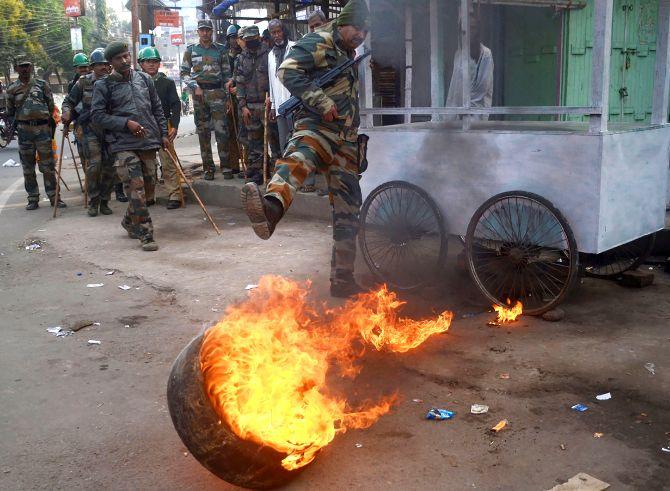 The advisory was issued after some TV channels showed footage of violent protests.
Heads rolled in the police establishment because of incessant protests with the state's Bharatiya Janata Party government removing Guwahati Police commissioner Deepak Kumar and appointing Munna Prasad Gupta in his place.
Additional director general of police (law and order) Mukesh Agarwal was also transferred and replaced by ADGP (CID) G P Singh.
The streets of Guwahati and other cities reverberated with anti-government slogans as thousands marched through the streets cocking a snook at security forces to attend a rally called by the All Assam Students Union (AASU) at Latashil ground.
"Prime Minister Narendra Modi and Chief Minister Sarbananda Sonowal have betrayed the people of Assam by ensuring passage of the Bill," AASU advisor Samujjal Bhattacharya told the gathering.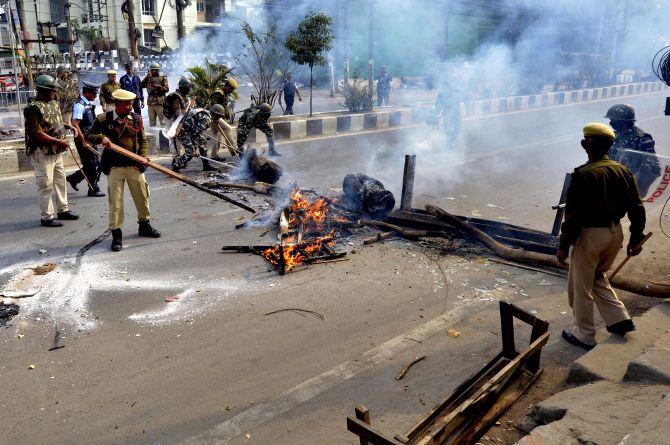 Leaders of the AASU and the North East Students' Organisation (NESO) said they will observe December 12 as 'Black Day' every year in protest against the passage of the Bill in Parliament.
In Dibrugarh's Chabua, the hometown of Chief Minister Sarbananda Sonowal, local MLA Binod Hazarika's residence was set on fire.
Vehicles parked in the building that also houses his office were torched by protesters, an official said.
The circle office in the town was also burned down by them, he said.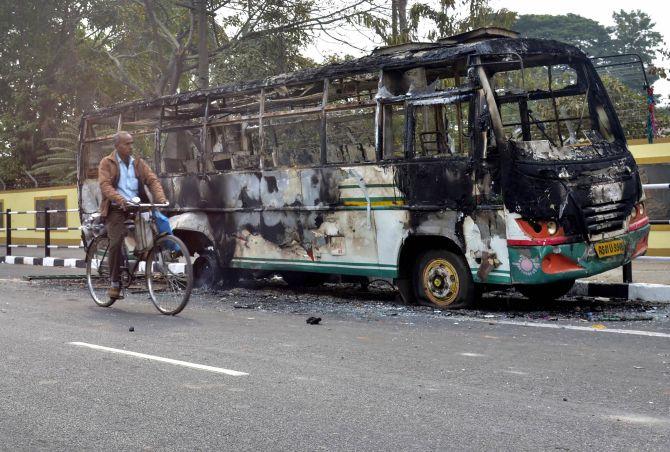 Right to Information activist and peasant leader Akhil Gogoi was arrested in Jorhat district as a preventive measure, amid violent protests, officials said.
A senior official of the Jorhat administration told PTI that Gogoi was taken into custody to avoid any 'untoward incident' in the district, as well as other parts of the state by his supporters.
Gogoi, the adviser of the Krishak Mukti Sangram Samiti (KMSS), had earlier in the day staged a sit-in outside the Jorhat Deputy Commissioner's office.
"There were around 3,000 people during the day. We did not arrest him then to avoid repercussions. After he left the scene, our teams went to arrest him. It is a preventive arrest," the official quoted above said.
Gogoi was trying to evade arrest and the teams had to search for him for a while before taking him into custody from an advocate's residence, the official said.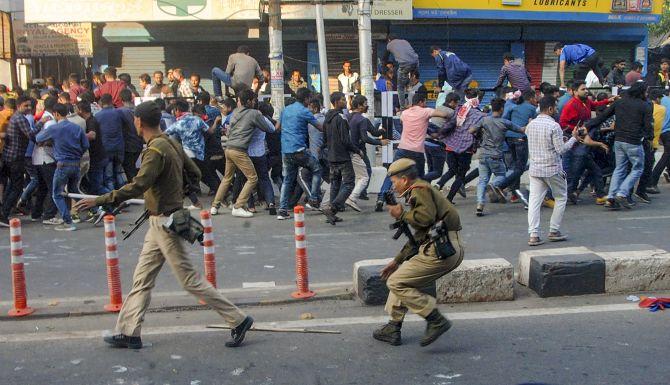 Kamrup district observed total shutdown with offices, schools and colleges closed for the day. Shops were also shut, with no vehicles plying on major roads.
Police said it fired three rounds in air in Rangia town as protesters threw stones and burnt tyres.
Agitators were also baton-charged at several places in the town.
Apart from Guwahati and Dibrugarh, where an indefinite curfew is in place, curfew has been imposed in Jorhat from 6 pm to 6 am to prevent vandalism at night, deputy commissioner Roshni Korati said.
Five columns of Army, comprising around 70 personnel each, have been deployed in the state and are conducting flag marches in important cities like Guwahati, Tinsukia, Jorhat and Dibrugarh.