The Assam government on Sunday said it has directed an additional chief secretary to 'examine' the alleged diversion of funds under tiger conservation and other projects to the visit of former President Ram Nath Kovind and his family to Kaziranga National Park.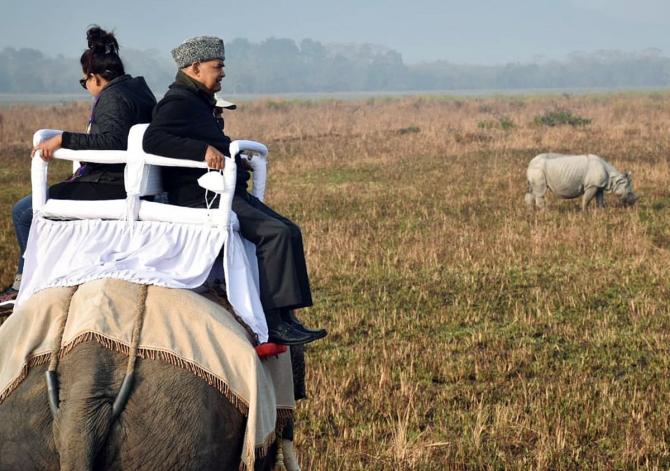 Speaking to PTI, Environment and Forest Minister Chandra Mohan Patowary said the additional chief secretary of the forest and environment department Ravi Shankar Prasad has been directed to look after the allegation following a reply to a social activist under the Right to Information Act.
"We have asked Prasad to examine the entire issue. He is currently examining if funds allocated to tiger projects and other conservation efforts were diverted and misused during the visit of the former President to Kaziranga National Park," he said.
Patowary, however, declined to share further details and said other information will be shared once Prasad gives his opinion.
Meanwhile, Principal Chief Conservator of Forests (PCCF) M K Yadava, who is also the Head of Forest Force (HoFF) Assam, was relieved from his additional charge of Chief Wildlife Warden with immediate effect.
The Forest minister said that Yadava has been relieved of his 'additional charge' as Chief Wildlife Warden with immediate effect.
"We have given the charge of Chief Wildlife Warden to the Principal Chief Conservator of Forests (Wildlife) Sandeep Kumar. Yadava will continue to be the PCCF and HoFF," he added.
According to an RTI reply to animal rights activist Rohit Choudhury in November 2022, the Field Director of Kaziranga National Park had informed that a total of Rs 1,64,16,000 from the funds meant to protect wildlife in park were spent during two nights of stay of the then President and his entourage.
The Assam government had used Rs 1.13 crore from the tiger conservation fund of the Kaziranga National Park, while an additional Rs 51.98 lakh was allocated by the Principal Chief Conservator of Forests and then Chief Wildlife Warden Yadava from another wildlife fund of the KNP to lay out the red carpet to the visiting dignitaries.
Kovind, accompanied by his wife and daughter, was on a three-day tour to Assam on February 25-27, 2022.
He along with his family stayed the last two nights of the visit at Kaziranga National Park (KNP) and took part in a host of programmes.