Congress leader Pawan Khera was arrested on Thursday by Assam Police in connection with an FIR over alleged remarks against Prime Minister Narendra Modi, a day of high drama that began with him being deplaned from a flight to Raipur and his party leaders protesting on the tarmac.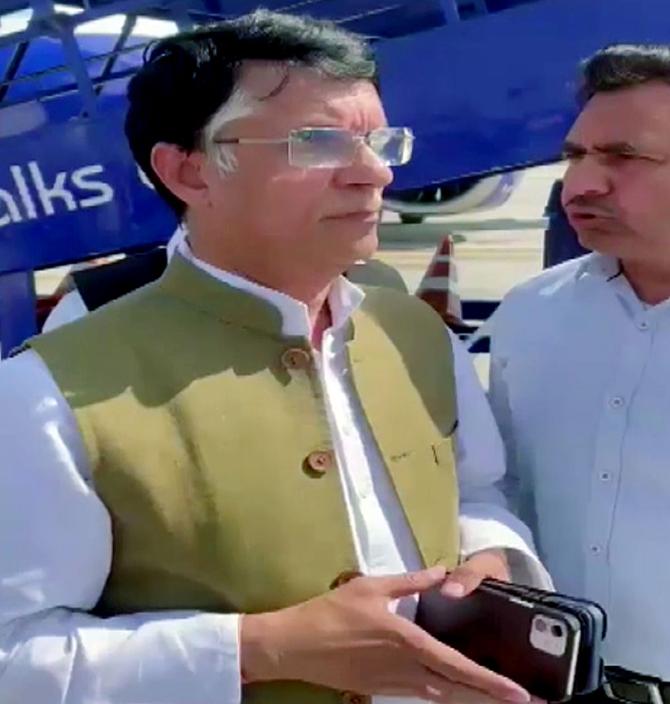 Khera, who was in the headlines this week for apparently fumbling on the prime minister's father's name during a press conference, was released on interim bail till February 28 by a Delhi court later in the evening on the directions of the Supreme Court.
He had moved the apex court to seek relief in multiple FIRs against him in Assam as well as in the Uttar Pradesh towns of Varanasi and Lucknow.
After dictating the order granting interim bail, Chief Justice of India D Y Chandrachud, apparently displeased with the Congress leader's remarks, told senior advocate A M Singhvi, who was representing Khera, "We have protected you (Khera) but there has to be some level of discourse."
"He (Khera) has made statements in a press conference. He has made certain statements which I cannot say in the court but I personally would not have made," Singhvi, also Khera's party colleague, said in the apex court.
Khera, who was deplaned while he was on his way to the Chhattisgarh capital to attend the party's plenary session, told reporters outside the Dwarka court in the evening that the law had come to his rescue and he was grateful the apex court had upheld his liberties.
"I was asked to deplane as if I was a terrorist. This is not the only example of people's rights being curtailed...
"They arrested me illegally without serving me any notice," the Congress leader said.
In Raipur, Congress general secretary Jairam Ramesh described the police action against Khera as a new example of Modi's politics of "vendetta, harassment and intimidation".
Assam Police said in court that Khera had used "derogatory remarks" against a democratically elected prime minister.
His counsel argued that he had apologised for his remarks on the prime minister and the charges against him do not require arrest.
The case against Khera was registered at the Haflong police station in Assam under various sections of the IPC, including 153 B (imputations, assertions prejudicial to national interest), 500 (punishment for defamation) and 504 (intentional insult with intent to provoke breach of peace).
"His (Khera) comments against the PM is one part of the FIR. There are other complaints also. The case is registered under several sections of the IPC," Dima Hasao Superintendent of Police Mayank Kumar told PTI. The complaint, he said, had been filed on Wednesday at the Haflong station by a Samuel Changsan.
Khera had referred to the prime minister as "Narendra Gautamdas Modi" while criticising the government over the row involving the business conglomerate headed by Gautam Adani.
Modi's full name is Narendra Damodardas Modi, with the middle name Damodardas standing for his father's name, a common practice in many parts of the country.
The apparent flub led to strong condemnation from the BJP with its leaders accusing Khera of making fun of the prime minister and his late father.
The action against the Congress' media department head at Delhi airport's terminal one led to extraordinary scenes of protest at the tarmac by Congress leaders who did not allow Khera to be taken away without an arrest warrant.
As drama escalated and Khera was deboarded, Indigo staff initially told Congress leaders there was confusion over his bags. They said police was on its way and would explain the reason to him.
Several Congress leaders, including senior leader Randeep Surjewala, squatted on the tarmac and raised slogans against the government.
"We are all on the @IndiGo6E flight 6E 204 to Raipur and all of a sudden my colleague @Pawankhera has been asked to deplane," Congress spokesperson Supriya Shrinate, who was also on the flight, said on Twitter.
"What sort of high handedness is this? Is there any rule of law? On what grounds is this being done and under whose order?" she said.
Senior Congress leader K C Venugopal also spoke out and accused the BJP of targeting the party's plenary session.
"It is totally condemnable the way they are doing these things. We are all going to Raipur for the plenary session, Pawan Khera was also travelling with us, suddenly they deplaned Pawan Khera without any valid reason," Venugopal told PTI at the tarmac.
"After half an hour, Delhi Police comes and says they have to hand him (Khera) over to Assam Police. We asked if there is an FIR, arrest warrant or any document, but nothing is there, only oral orders," the Congress' general secretary in-charge organisation said.
How can this happen, has India become a "banana republic", he asked.
"Three, four days back, they carried out raids in Chhattisgarh… now this," he said.
The New Delhi-Raipur flight was delayed and IndiGo staff said the passengers will be put on another flight to Raipur.
IndiGo said it was following the advice of concerned authorities.
The majority of the passengers had boarded when drama ensued as Khera was asked to deplane. The passengers were taken back to the plane in buses later in the afternoon and headed to Raipur only around 4 pm, almost four hours after the scheduled time of 11.45 am.
Khera had been the subject of BJP ire ever since his remark.
"The kind of language the Congress spokesperson has used (for PM) and the sort of reaction it has drawn from people from across the country... you will see Rahul Gandhi that the Congress will not be visible even through telescope after the Lok Sabha polls in 2024," Home Minister Amit Shah had said in Nagaland.
BJP leaders in Delhi also took out a protest march in the city on the matter.
"Khera's use of indecent language to malign the fame of the prime minister is a well-planned conspiracy because the Congress is scared of Modi," BJP MP Ramesh Bidhuri said.
© Copyright 2023 PTI. All rights reserved. Republication or redistribution of PTI content, including by framing or similar means, is expressly prohibited without the prior written consent.