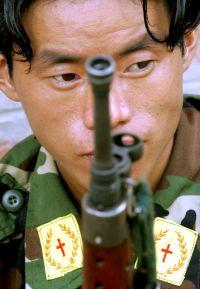 Suspected militants from the outlawed National Democratic Front of Bodoland (Sangbijit) killed more two persons and injured three others in two separate incidents of shootouts on Saturday in Bodoland Territorial Autonomous District Council areas in Assam.
According sources one person was killed and three others including a woman seriously injured when militants opened indiscriminate fire at a market place about two kilometers away from Panbari police outpost in Chirang district of BTC at around 7.30 pm on Saturday night.
The seriously injured were rushed to a hospital in Bongaigaon.
All the victims belonged to a religious minority community.
In another incident militants shot dead a barber at Udalguri in the BTC area on Saturday evening.
The two incidents occurred close on the heels of five killing of bus passengers hailing from Bihar by the NDFB-S ultras on Friday night on the national highway in Kokrajhar district of Assam.
The army and police have geared up vigil in BTC areas with the show of belligerence by the NDFB-S ultras.
The NDFB-S had broken away from the parent NDFB headed by Ranjan Daimary after the latter decided to opt for peace dialogue with the government of India.
The NDFB-S has been on an rampage in the BTC area by resorting to unabated extortion and abductions especially in areas close to Arunachal Pradesh border and India-Bhutan border.
Image for representation purpose only