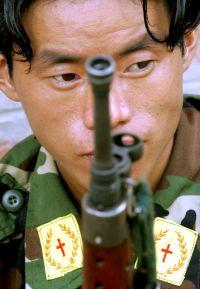 The killing of 16-year-old Priya Basumatary as 'punishment' for reportedly leaking information on the movements of five National Democratic Front of Bodoland (Songbijit faction) cadres, who were gunned down by the police following a tip-off, has sent shockwaves across Assam.
Priya, whose body is yet to be recovered, was shot from point-blank in front of the inhabitants of Dwimuguri village in western Assam's Chirang district on August 20. The NDFB-S militants then took her body along with them.
According to sources, the NDFB-S believed that the high school student had passed information to her friend -- a cadre of the Ranjan Daimary faction of the NDFB which is in truce with the government of India -- about the presence of five NDFB-S cadres at Dwimuguri.

Her friend is reported to have shared the information with the police and security forces, who then conducted an operation and killed those five cadres on the spot.

Seeking retribution, NDFB-S cadres, armed with sophisticated weapons, came to the Dwimuguri village and compelled local residents to gather at a place before they shot Priya dead.
While condemning the killing, Assam Chief Minister Tarun Gogoi announced that the government would institute a bravery award in Priya's honour for her exemplary courage against marauding militants.