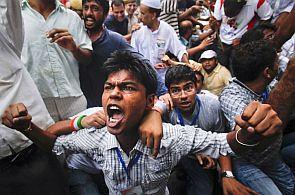 After several days of intensive statehood agitation by various ethnic communities, the situation in Assam limped back to normalcy on Wednesday. Trains services were restored while movement of vehicles including trucks carrying essential commodities resumed on the highways connecting the Assam and the Northeast to the rest of the country.
Bandhs called by various organisations including the All Bodo Students' Union and All Koch-Rajbongshi Students' Union came to an end.
Curfew was relaxed for 12 hours in violence-hit Karbi Anglong Hill district where the statehood movement by Karbi tribe organisations turned violent. The Army continues to keep vigil in the district.
Chief Minister Tarun Gogoi held talks with at least three agitating organisations at his official residence on Wednesday and called upon them to call off their agitation. He invited them for a dialogue process.
Gogoi told the ABSU, AKRSU and Bodo National Convention that peace had to be restored in the state to pave the way for continuation of dialogue.
Tarun Gogoi held an hour-long meeting at his official residence with a 10-member delegation led by AKRSU president Biswajit Ray and general secretary Pradip Ray.
He assured to facilitate talks between the AKRSU, the prime minister and the Union Home Minister on AKRSU's demand for statehood. He promised to take up the Koch-Rajbongshi community's demand for Scheduled Tribe status with the Central government.
Gogoi also reviewed the law and order situation in the state with top police and civil officials in a separate meeting in view of prevailing tense and volatile situation arising out of the spurt in statehood movements.
A senior police official informed that the alert sounded in the state because of the situation would continue in view of the threat from the anti-talks faction of the ULFA in the run up to Independence Day.