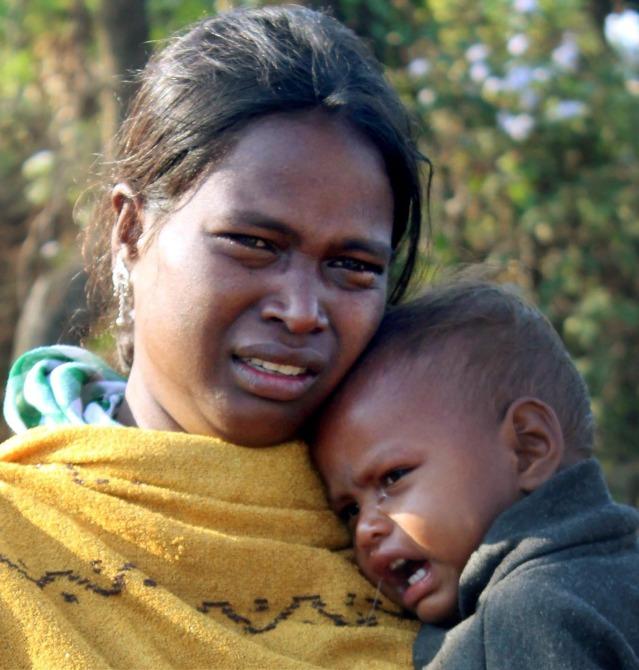 Hapless Adivasi villagers living in remote bordering areas of Kokrajhar and Sonitpur districts of Assam stood susceptible to marauding heavily armed National Democratic Front of Bodoland-Songbijit extremists who were desperate to show off their strength to counter sustained, intensified operation against them by the Assam police and the army of late.

Those areas close to India-Bhutan border and Assam -- Arunachal Pradesh boundary lacks proper infrastructure and adequate presence of police and security forces and the NDFB-S ultras converted those to killing fields without any resistance apparently to avenge recent killing of some of its cadres by security forces.
Two cadres of the outfit were eliminated by the army in Kokrajhar on last Sunday.
The dastardly killings of Adivasi villagers were carried out on Tuesday within few hours of Chief Minister Tarun Gogoi making a statement on Tuesday that his government was not bothered about militant groups such as NDFB-S given that the parent NDFB led by Ranjan Daimary (now in truce) was a bigger threat.
Gogoi said hitherto no reason could be ascertained as to why the NDFB-S had killed innocent Adivasi villagers. "I don't find any reason for NDFB-S resorting to killing innocent Adivasi villagers including women and children," he said.
Gogoi said the NDFB-S militants were taking shelter in Bhutan and Arunachal areas across the border while the leader of the outfit Songbijit is hiding in Myanmar, and is remote controlling operations from there.
The NDFB-S is waging war against the state demanding a sovereign Bodoland. The NDFB-S was formed after the NDRF came forward for peace talks with the Government of India after its chairman Daimary was captured in Bangladesh and handed over the India authority.
Daimary who is now out on bail, was charged by the Central Bureau of Investigation of masterminding October 30, 2008 serial blasts in Assam that left over 100 dead and over 400 injured.
It is not the first time that innocent Adivasi villagers faced the wrath of the gun-toting Bodo militants. Hundreds of Adivasi villages were burnt down and hundreds killed by NDFB ultras in Bodoland areas of Assam in 1993.
Adivasis from Bodoland areas of Assam usually have their settlements on forest land and the Bodo militants hatch designs to scare away them from the forest areas so that those lands could be grabbed by the Bodo tribe people.
It had happened in 1993 and many Adivasi inhabited areas were then occupied by Bodos while violence- displaced Adivasi villagers were left to languish in relief camps for years. Some times, Adivasi villagers are suspected by the Bodo ultras of acting as informer of security forces and hence punished.
Image: A village woman mourns after the death of her relative during attacks by Bodo militants, in Phulbari on Wednesday. Photograph: PTI Photo