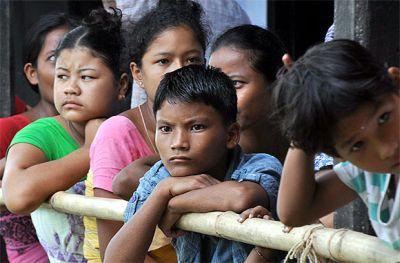 Thousands of people displaced due to the violence in Bodoland Territorial Autonomous District Council areas are still scared to leave the relief camps and go back to their villages.
It has been over 2 months since violence broke out in the area following the massacre of Adivasi villagers by NDFB-S militants.
The Assam government has decided to close down the remaining relief camps and instead provide security and rehabilitation grant to the victims of violence.
Over 5,000 people lodged in relief camps in Kokrajhar district of Assam are being shifted to make-shift relief camps in their native villages or close to their native villages under the protection of 24x7 fixed security pickets.
"Fixed security pickets have been set up and rehabilitation and house building grants have been sanctioned for the tribal people in Kokrajhar district of western Assam," a senior district official said.
These camps are at Khalashi (1665 persons), West Malegaon (2186 persons), Dwimuguri (479 persons), Amjhora (220 persons), North Panbari (162 persons), South Panbari (181 persons), Bashbari (155 persons). There are over 100 persons in another such camp at and Saralpara.
These people belonging to 1,090 families were rendered homeless in the violence. The government has granted Rs 50,000 each for each family to build houses and cheques will be handed over to them by March 8.
These families will be provided with job opportunities under MNREGA for the time being as the government will stop supplying relief materials once they are resettled.
For the purpose already Rs 9,79,84,000 has been provided to the district administration. They will be engaged in works like rural roads building, canal digging, gravelling, restoration of traditional water bodies, making fishery tanks, erosion protection works.
The official said that two MLAs from Kokrajhar district, Promila Rani Brahma and Majendra Narzary, have provided Rs 49.85 lakh each from their MLA areas development fund for providing work under MNREGA to the violence-affected people.