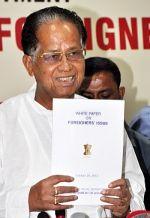 Stung by the public of dissent against his leadership shown by about 20-odd comparatively young members of Legislative Assembly, Assam Chief Minister Tarun Gogoi has resorted to consultation with veterans within the party to nip it in the bud.
Following his discussion with some very senior party MLAs including some and former as well as incumbent ministers, Gogoi has made two significant announcements to disarm his detractors who are trying to woo MLAs to their ranks.
He have consulted Congress veterans such as Sarat Borkotoky, Rameswar Dhanwar, Anjan Dutta who have been virtually relegated to background over the years during Gogoi's tenure. But their wisdom and experience seem to have worked for the CM effectively in quelling resentment brewing within the ruling party in Assam.
Negating his detractors' attempt to woo tea tribal MLAs against his leadership, Gogoi has announced a special development package of Rs 136 crore for the tea tribe community, a traditional vote bank of the Congress in Assam.
Gogoi has announced that allocation for development tea tribe community in the state budget has been increased to RS 136 crore, out of which Rs 36 crore will be spent in improving power infrastructure in tea tribe inhabited areas of the state.
In another announcement, Gogoi said efforts were on to set up a branch of the AligarhMuslimUniversity in Assam. It was aimed at placating the opposition All India United Democratic Front MLAs who have been rooting for it.
The announcement was timed to prevent AIUDF MLAs joining hands with his detractors within the Congress Legislature Party who are out to destabilise him.
In the wake of the latest episode of resentment shown by a section of party MLAs at the instance of his detractors, Gogoi announced that from now on wards he would meet them after every three months to discuss various issues concerning them.
Gogoi added that during his tenure since 2001, he had preferred to allow his ministers to function freely, but now he had decided to monitor works of every department by himself for effective implementation of various government schemes.
Referring to the 'dissidence', Gogoi asserted that the dissidence had now been reduced to 'zero' and he would remain the chief minister of Assam with the blessings from party high command.