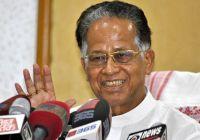 Assam Chief Minister Tarun Gogoi on Saturday sounded happy over the way the dialogue between the Government of India and United Liberation Front of Assam has progressed.

He said the peace talks with ULFA were progressing in the right direction, but it would be too early to comment on the possible outcome of dialogue. He, however, said there were positive signals coming out of the process so far.
"We (Assam government) are willing to accommodate the demands of the ULFA as much as possible so that a solution could be arrived at from the dialogue process soon," Gogoi said.
He admitted that the anti-talks faction of the ULFA, led by Paresh Barua, was still recruiting vulnerable youth to its ranks.
He also said that job creation will be the thrust of the government in the next fiscal 2013-14. "We want to give much importance to the IT sector for its potential to create employment avenues and boost the economy. We are going to set up entrepreneurship and skill development centres all over the state to have a pool of skilled, employable human resources," Gogoi said.

He said the Assam government would call on United Progressive Alliance chairperson Sonia Gandhi with request for assistance from the Centre to set the entrepreneurship and skill development programme on the roll in Assam plagued by unemployment.