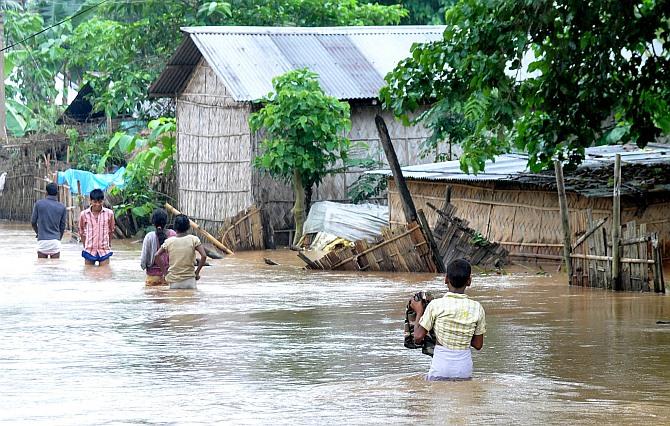 With the recovery of four more bodies on Thursday, the death toll mounted to 36 in Assam floods that affected about 10 lakh people in 13 districts and rendered majority of them homeless.
Two more deaths were reported from Krishnai and Kukurkata areas of the worst-hit Goalpara district, while one body each was recovered from Tinsukia district and Guwahati which falls in Kamrup Metro district, officials said.
Chief Minister Tarun Gogoi said 35 to 36 people have been reported dead so far and that the toll could be higher. Though the rains have stopped and water was slowly ebbing, huge tracks of human habitation and crop fields were under water that reached even up to roofs of thatched- and tinned-roof houses, the officials said.
The authorities have opened 162 relief camps and shelter homes where 1.5 lakh people have taken shelter. The National Highway in Goalpara was still under water and there was no movement of traffic there, while washing away of a wooden bridge on Aagia-Darek Road has forced the people to come to safety using a rope from one bank to the other.
The floods have caused four small children in Boko area of Kamrup Rural district to become orphans as their parents were washed away by a swollen river, the sources said. With the cessation of rains since last evening in Guwahati, the flood waters were gradually receding from Anil Nagar, Nabin Nagar and Zoo Road areas, the sources said.
According to the flood report by Assam State Disaster Management Authority, around 3 lakh people were hit in Kamrup Rural district. Essential food items and tarpaulin sheets were being provided to the relief camp inmates, the ASDMA release said. However, people who took shelter on higher roads complained that the authorities have not provided them with food, drinking water or tarpaulin sheets.
Goalpara district was the worst-hit in the floods due to heavy rains in Assam, Meghalaya and Arunachal Pradesh since early this week, while torrential downpour and water running down from the adjacent Meghalaya hills caused heavy waterlogging in Guwahati, the sources said.
Several embankments have been breached and many roads damaged across the state, the ASDMA added. The worst hit Goalpara district recorded the maximum death (16), followed by Kamrup Rural (12), Kamrup Metro (six), Dhubri and Tinsukia (both one).
The other affected districts are Dhemaji, Barpeta, Udalguri, Kokrajhar, Nalbari, Morigaon, Nagaon, Darrang and Lakhimpur.
The state government had on Wednesday announced an ex-gratia payment of Rs 3.5 lakh to the next of kin of those who died in the flood. Meanwhile, the Northeast Frontier Railway had cancelled eight trains on Wednesday and diverted seven others today due to the floods in Lower Assam and damaged track restoration work.
The railway will also operate three special trains for transporting flood-affected people and helping in restoration work, an NF Railway spokesperson said in a statement. Rail tracks were breached at 16 places in the New Bongaigaon-Goalpara-Kamakhya section of Rangiya Division due to massive flood during the last few days, the statement said.
Track restoration work is also going on between Aujuri and Sonuabari in Lumding division, the spokesman added.