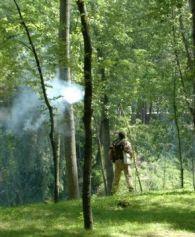 Almost 5 years after the 'encounter' between the Assam Rifles and alleged extremists, families of the five victims of the counter-insurgency action in Sonitpur district of Assam, will receive some compensation, thanks to the National Human Rights Commission.

The NHRC office on Thursday informed that the Commission had recommended the Union Ministry of Home Affairs to pay a sum of Rs 5 lakh each to the next of kin of the five persons who were killed in Akabasti village on April 19, 2009. The deceased are: Prabhat Basumatary, Deithan Basumatary, Krishna Basumatary, Junish Ali and Babul Ali.
The NHRC has observed that it was not provided with any proof that any of these five men had either handled or fired the weapons allegedly recovered from the scene of the incident. Hence, it did not accept the report of the Assam Rifles in the matter.
There was also no explanation offered by the Ministry of Home Affairs to show that there was no violation of human rights in the incident.

The Commission also noted that the magistrate who conducted the enquiry had held that four out of the five men might have had involvement with an extremist organisation. However, he had not examined the circumstances of their deaths.
Even if these men had extremist links, the Commission's examination of the reports sent by the Assam Rifles and by the police, made it difficult to accept the claim that the men were killed in a genuine encounter.

The Commission has asked the Ministry of Home Affairs to pay the monetary relief within a period of eight weeks. It has also sought a compliance report from the Union Home Secretary along with the proof of payment on or before 20th March, 2014.

The Commission took cognisance of the matter suo motu on the September 16, 2011, on the basis of the information given on the website of Assam Police that five MULTA and NDFB activists were killed in an encounter with Assam Rifles personnel on 19.04.2009 at Akabasti under Rangapara Police Station in Sonitpur district of Assam.

However, no intimation in this regard seemed to have had been received in the Commission as per its existing guidelines. Subsequently, notices were issued to the Union Home Secretary, Director General of Police, Assam, DM & SP, Sonitpur to take appropriate action with regard to the investigation of the case and submit requisite reports. DGP, Assam was also asked to explain as to why intimation about the said incident had not been sent to the Commission.