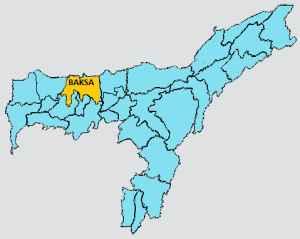 Indefinite curfew has been enforced in troubled Baksa district of Bodoland Territorial Autonomous District Council areas of Assam following the killing of a youth leader, Manoj Das, of Asom Sena by unidentified gunmen on Wednesday evening at Mushalpur area.
Tension prevailed in Musalpur where police and paramilitary forces had to resort to lathicharge and blank fire to control a mob of protestors who tried to take out a procession with his body demanding arrest of the killers within 48 hours.
At least 20 persons were injured in the police action. The army has been put on alert.
Police informed that, unidentified miscreants fired at Manoj Das when he was about to leave for his residence along with his unwell father and two to three friends who had come to a pharmacy to administer saline to the ill old man.
The site of the incident is about 500 meter from the police station and near Mushalpur Civil Hospital. Grievously injured Manoj Das was taken to Nalbari Civil Hospital where he succumbed to his injuries on Thursday night.
Manoj Das was a supporter of A-Boro Suraksha Samitee (or non-Bodo security committee) and also the secretary of Baksa district village defence protection committee.
Police have recovered four empty rounds of 9mm and one 9mm live ammunition from the site of the incident.
Police and paramilitary forces have launched an operation in the district to apprehend the culprits involved in the murder.
Inspector General of Police, law and order, S N Singh, is also camping at Mashalpur to supervise the operation.
Tension has been running high in Baksa district because of the undercurrent of conflicts between Bodos and non-Bodos in the aftermath of Lok Sabha polls where a non-Bodo candidate, Hira Sarania, emerged winner defeating all the three influential Bodo candidates in the fray in Kokrajhar constituency.
Recently four persons belonging to a minority community were abducted and killed by the militants from National Democratic Front of Bodoland (Sangbijit faction) in Baksa district.