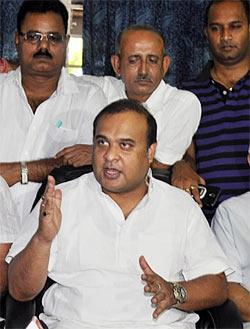 The Congress is witnessing its first open rebellion after the debacle in the elections in May.

Worsening the crisis in Assam, State Education and Health Minister Himanta Biswa Sarma quit on Monday demanding the immediate ouster of Tarun Gogoi as chief minister. Expressing no confidence in the CM, he submitted his resignation to Governor J B Patnaik at the Raj Bhawan where he was accompanied by 31 dissident MLAs.

Dr Sarma enjoys support of over 30 MLAs out the total 78 Congress MLAs in the state.
He quit "responding to the call of his conscience" after a prolonged conflict with Gogoi for over two years. He said that along with other rebel MLAs he would continue efforts to dislodge the CM without toppling the government which belongs to Congress workers.
"We dissident MLAs will play the role of a constructive opposition in the assembly, but obey the party whip whenever there is one. We don't have the confidence in Gogoi but we are bound by party discipline. As long as Sonia Gandhi replaces him, we can't do anything but register our protest this way" Himanta said.
"I request the Congress leadership not to let Gogoi divide Assam. 50 Congress MLAs have said they want a change in leadership," he added.

The development comes as a major blow for Congress Vice President Rahul Gandhi, who has been backing Gogoi.

The rebels had set a deadline of Sunday to the Congress high command to replace Gogoi. But, it had conveyed to them that there was no chance of a change in leadership till November that is after the assembly polls in Haryana and Maharashtra.
Jayantamalla Barua, who is among the MLAs demanding the CM's ouster, said that the legislators held a closed door meeting at Dr Sarma's residence on Monday morning. He said about 35 MLAs went to Raj Bhawan.

Just before going to Raj Bhawan, Dr Sarma said, "We are definitely not going to support Tarun Gogoi. At the same time, we are not going break the party discipline."

Meanwhile, another group of Congress MLAs are confabulating at the residence of senior party leader Sarat Borkotoky, who is acting as a mediator between the Gogoi camp and the rebels.

The dissidence against Gogoi has been brewing for over two years and it has peaked after the party's rout in the last Lok Sabha polls.

Dr Sarma had met Gogoi for 15 minutes on Sunday.
Image: State Education and Health Minister Himanta Biswa Sarma, who quit on Monday, addresses the media along with rebel MLAs