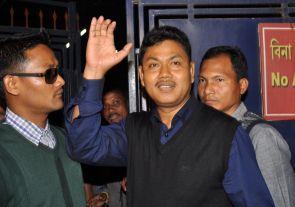 The faction of the outlawed National Democratic Front of Bodoland led by Ranjan Daimary on Friday signed a Suspension of Operation agreement with the Government of India in Guwahati.
This has set the stage for a process of dialogue between the NDFB (R) and the Government of India.
The SOO will be valid for next six months with provisions for further extension. As per the SOO the members of the outfit will have to take refuge in truce-time designated camps and deposit weapons to the government.
The SOO was signed in the presence of Union Joint Secretary (North East) Home, Sambhu Singh and senior police and home department officials of Assam at the headquarter of the Special Branch of Assam Police.
The NDFB faction has submitted a list of 573 cadres and 40 arms to the government. The Centre has agreed to provide two designated camps to lodge the cadres of the NDFB faction.
The Daimary faction of NDFB, which had carried out the serial blasts in Assam on October 30, 2008, to press for its demand for a "sovereign Bodoland", has scaled down its demand for a separate state for the Bodo tribe in Assam to facilitate dialogue with the Centre.
The ground for the dialogue was prepared by the Centre's interlocutor for peace talks and former IB chief , P C Haldar, who held interactions with Ranjan Daimary while the latter was in jail on various charges including that of master minding the serial blasts and waging war against the state. Daimary alias D R Nabla was released from jail on bail in June to facilitate his participation in the peace talks.
Daimary, was arrested by Assam Police in May 2010 subsequent to his apprehension
in Bangladesh. He was named as the mastermind of the serial blasts in the CBI chargesheet that altogether had 22 names. Fourteen of them, including Daimary were sent to judicial custody.
The government has been already in dialogue with another NDFB faction headed by Gobinda Basumatary. It is called NDFB (Progressive) which had disassociated itself from the parent NDFB led by Ranjan Daimary after the latter was accused of triggering unprecedented serial blasts in Assam.
The NDFB has been fighting for a 'sovereign Bodoland' in Assam for the last three decades.