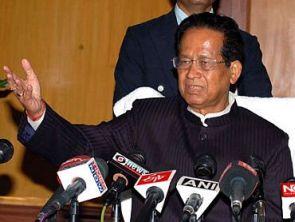 The All India Congress Committee has barred all ministers and MLAs in Assam from speaking to the media about dissidence in the Assam Congress Legislature Party headed by Chief Minister Tarun Gogoi.
The AICC has appointed 3 senior party leaders to resolve the crisis arising from the demand for Gogoi's resignation owing to the party's bad show in the Lok Sabha polls.

Assam's Health and Education Minister Dr Himanta Bishwa Sarma, who has been leading the revolt, was called by Gogoi at his official residence. Sarma, however, refused to discuss the problems facing the ACLP before the media in view of the restrictions imposed by the AICC.

"When problems related to the ACLP are being tackled by the AICC leaders in New Delhi, why should I comment on it?" Sarma said.

He said that comments on the current problems within the ACLP could be made only by AICC leaders -- Golam Nabi Azad and C P Joshi -- who have been assigned to resolve the issue by talking to the dissident party MLAs.

"I have put forward ten points before the chief minister as reasons for the party's defeat and for en bloc shifting of many traditional votes among certain ethnic communities. It is now up to him as a chief minister to decide what to do to strengthen the party before the 2016 assembly election."

He informed that riots in Bodoland areas, unresolved 'D' voters issue, failure to implement the Food Security Act, failure to provide individual electricity meters at the quarters of tea garden workers etc, were some of the key factors that facilitated the party's debacle in the Lok Sabha polls.

Regarding the dissidents' demand for reshuffle of the state cabinet, Dr Sarma said, "None of the unhappy MLAs are aspiring for minister's post. What they need is proper atmosphere and support from the government to work for the people of their respective constituencies. Their problems needed be solved by the CM. I have told the CM to discuss micro issues with the dissident MLAs."

Gogoi who let for New Delhi on Monday afternoon, also met another senior dissident camp MLA, Sarat Borkotoky before his meeting with Dr Himanta Bishwa Sarma.