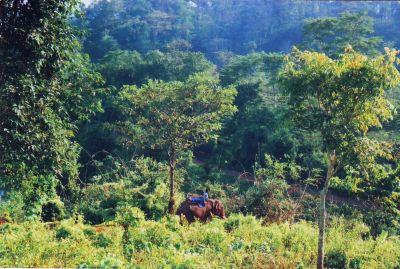 National Hydroelectric Power Corporation General Manager Anil Kumar Agarwal, who was abducted by the outlawed militants belonging to the National Democratic Front of Bodoland on Saturday while he was on his way to Tezpur in Assam from project site at Tawang in Arunachal Pradesh, has remained untraced, though police and army have launched an operation to trace him.
A security source informed that the abducted persons might have been kept by the abductors inside the thick jungles along the Assam-Arunachal Pradesh border, but not in any of the border villages.
NDFB's Myanmar-based commander I K Songbijit congratulated his cadres for carrying out the successful abduction operation with a rider to take proper care of the abducted person, according to messages claimed to be intercepted by the security agencies.
Meanwhile, a police source has claimed that the NDFB(S) abductors have managed to contact the family of the abducted NHPC official with a ransom demand. Before that the outfit contacted the NHPC authority through e-mail with the ransom demand. However, a source in the NHPC has denied
receiving any such mail from the outfit.
The driver of the NHPC general manager and two other persons involved in the kidnapping have been arrested by the police. A widespread search operation has been launched to rescue the abducted person, in a cautious note so that no harm is caused to the person in captivity.
Police also recovered two of the four motorcycles used in the abduction operation. The ultras involved in the operation too have been identified.
The NDFB has been involved in kidnapping of at least 14 persons in the areas bordering Arunachal Pradesh and Bhutan in the last few months. Some of those have been released safely probably after payment of ransom while few more persons are still in the captivity.
The outfit has targeted even small time traders, belonging to the Bengali and Gorkha communities in the areas bordering Bhutan.
Image: Abducted persons might have been kept by the abductors inside the thick jungles along the Assam-Arunachal Pradesh border
Photograph courtesy: Department of Forests, Assam government