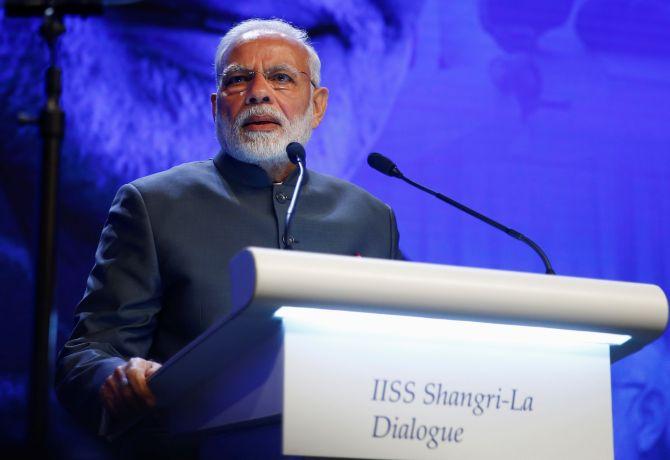 Prime Minister Narendra Modi on Friday said Asia and the world will have a better future when India and China work together with trust and confidence while being sensitive to each other's interests.
The prime minister's comments at the Shangri-La Dialogue in Singapore came over a month after his first informal summit with Chinese President Xi Jinping during which both sides resolved to build mutual trust and understanding.
"In April, a two-day informal Summit with President Xi helped us cement our understanding that strong and stable relations between our two nations are an important factor for global peace and progress.
India to soon start tri-lateral exercise with Singapore: PM
India will soon start a new tri-lateral exercise with Singapore with which New Delhi has the longest un-interrupted naval drills, Prime Minister Narendra Modi announced in Singapore on Friday.
He, however, did not name the third participant.
"India's armed forces, especially our Navy, are building partnerships in the Indo-Pacific region for peace and security, as well as humanitarian assistance and disaster relief," Modi said while delivering a keynote address at the Shangri-La Dialogue.
The forces train, exercise and conduct goodwill missions across the region, he said.
"With Singapore, we have the longest un-interrupted naval exercise, which is in its 25th year now. We will start a new tri-lateral exercise with Singapore soon and we hope to extend it to other ASEAN countries," Modi said.
India and Singapore have signed implementation agreement between their navies concerning mutual coordination, logistics and services support for naval ships', submarines and naval aircraft (including ship borne aviation assets) visits.
India conducts Malabar Exercise with the US and Japan, Modi said, adding that a number of regional partners join in India's Exercise 'Milan' in the Indian Ocean, and participate in Rim of the Pacific (RIMPAC) military exercise in the Pacific.
As many as 26 countries including India would participate in the biennial RIMPAC military exercise from June 27 to August 2, in and around the Hawaiian Islands and Southern California.
Known as the world's largest international maritime exercise, RIMPAC this year involves 47 surface ships, five submarines, 18 national land forces, and more than 200 aircraft and 25,000 personnel.
Ahead of the announcement, the United States had disinvited China from RIMPAC, a move Beijing described as 'unfortunate'.

"I firmly believe that, Asia and the world will have a better future when India and China work together in trust and confidence, sensitive to each other's interests," said Modi, the first Indian prime minister to address the Shangri-La Dialogue -- Asia's premier defence and strategic affairs conference.
In his keynote address at the Dialogue, Modi said an 'Asia of rivalry' will hold the region back while an Asia of cooperation will shape the current century.
The prime minister said both India and China have displayed 'maturity and wisdom' in managing issues and ensuring a peaceful border, adding cooperation between the world's two populous countries was expanding.
"No other relationship of India has as many layers as our relations with China. We are the world's two most populous countries and among the fastest growing major economies. Our cooperation is expanding," he said.
On competition among leading powers, Modi said it is normal but noted that contests must not turn into conflict and differences must not be allowed to become disputes.
Referring to the Indo-Pacific, Modi said a common rules-based order for the region should be evolved through dialogue, asserting that the rules must equally apply to all individually as well as to the global commons.
"Such an order must believe in sovereignty and territorial integrity, as well as equality of all nations, irrespective of size and strength. These rules and norms should be based on the consent of all, not on the power of the few. This must be based on faith in dialogue, and not dependence on force," he said.
Several leading powers including the United States, Australia, Japan and India have been pressing for a free, open and inclusive Indo-Pacific in the backdrop of China flexing its military muscles in the region.
"Today, we are being called to rise above divisions and competition to work together," Modi said, adding India does not see the region as a strategy or as a club of limited members.
"Nor as a grouping that seeks to dominate. And by no means do we consider it as directed against any country...India's vision for the Indo-Pacific Region is, therefore, a positive one," he said.
Prime Minister Modi also referred to his informal summit at Sochi with Russian President Vladimir Putin last month, saying he shared with him India's views on the need for a strong multi-polar world order for dealing with global challenges.
On Indo-US ties, Modi said New Delhi's global strategic partnership with Washington has overcome the 'hesitations of history' and continues to deepen across the extraordinary breadth of its relationship.
Modi said the Association of Southeast Asian Nations (ASEAN) will be central to the future of the Indo-Pacific Region.
"We should all have equal access as a right under international law to the use of common spaces on sea and in the air that would require freedom of navigation, unimpeded commerce and peaceful settlement of disputes in accordance with international law," he said.
The prime minister also expressed concerns over growing protectionism in goods and services.
"Solutions cannot be found behind walls of protection, but in embracing change. What we seek is a level playing field for all. India stands for open and stable international trade regime," said Modi.
He said India will support a rule-based, open, balanced and stable trade environment in the Indo-Pacific Region, which lifts up all nations on the 'tide of trade' and investment.
Talking about connectivity, Modi said it does more than just enhancing trade and prosperity as it unites a region.
On current connectivity initiatives in the region, he asserted that focus should be on building bridges of trust and not just on infrastructure.
"And for that, these initiatives must be based on respect for sovereignty and territorial integrity, consultation, good governance, transparency, viability and sustainability," he said.
He said the projects must promote trade, not strategic competition, adding, "On these principles, we are prepared to work with everyone."
India has been opposed to China's flagship One Belt One Road (OBOR) initiative as it passes through Pakistan-occupied Kashmir.
Talking about major global challenges such as terrorism and extremism, Modi said it was a world of inter-dependent fortunes and failures and that no nation can shape and secure it on its own.
"It is a world that summons us to rise above divisions and competition to work together," he said.
On Indian economy, Modi said the country will sustain growth of 7.5 to 8 per cent per year. "As our economy grows, our global and regional integration will increase."