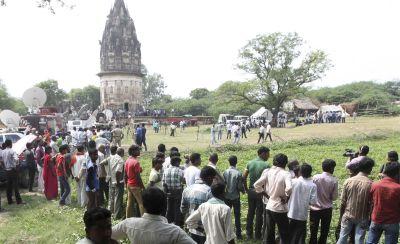 A month after the Archaeological Survey of India began excavations in Daudiya Kheda area in Unnao following a seer's claim that 1,000 tonnes of gold was buried at the site, officials on Monday stopped the dig after hitting a dead end.
The ASI team on Monday held a meeting with the administrative officials and decided to stop further digging work at Raja Rao Ram Baksh Singh fort.
Additional District Magistrate Vijay Shankar Dubey said workers had filled dug-up spots and would continue to fill more such places in the next two days.
The digging had started on October 18.
Neither ASI officials nor seer Shobhan Sarkar who was present in the ashram commented on the development. The ASI's move was communicated to the media through the ADM.
On November 9, ASI Director Syed Jamal Hasan, who was in his home district Jaunpur for Moharram, had stated that excavation at the site in Unnao would be stopped soon.
He had said that the ASI never carried out excavation work to recover the treasure but to find out centuries old hidden mysteries. He had said that the organisation carries out such work after receiving information any where in the country to know about the civilisation and culture of that time and under this excavation work was started at Daudiya Kheda.