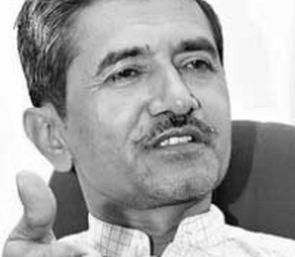 More than two weeks after he was shot at from close range, jailed self-styled godman Asaram's former aide and Ayurveda doctor Amrut Prajapati died in Ahmedabad on Tuesday at his residence.
Prajapati, who had been battling for life ever since he was attacked by two unidentified assailants in Rajkot on May 23, passed away at his house in Odhav area.
"At around 7am, he fell unconscious at his home. His wife called me. I rushed to his house and took Prajapati to the civil hospital, where he was declared brought dead by doctors," said maternal uncle Moti Prajapati.
Since Prajapati raised his voice against Asaram and his son Narayan Sai for the last many years and particularly after two Surat based sisters alleged rape on them, Prajapati's family members alleged that firing was done on the behest of Asaram and Sai.
"After the firing, Prajapati gave names of five suspected persons behind the attack. He even gave phone numbers and addresses of these men. However, no one has been arrested as yet by the Rajkot police," said Moti Prajapati.
"Asaram is behind the murder of my husband. We many a times told the police about possible attack on him, but no-one took it seriously. I don't trust the local police and demand a high level enquiry into the murder of my husband," said Prajapati's wife Saroj while speaking to media at civil hospital.
Prajapati was a qualified ayurveda practitioner and worked as the personal doctor to godman Asaram for almost 12 years during late 90s. Around 15 years back, Prajapati left the Motera based Asaram ashram owing to differences with his Guru.
Later, he levelled serious allegations against Asaram after the deaths of two teenage boys living in ashram.
Before he was shot at in Rajkot, Prajapati was attacked more than 7 times after which he started keeping a licensed revolver with himself for safety.
On May 23, when Prajapati was inside his dispensary in Rajkot, two unidentified men opened fire on him from close range. The firing left Prajapati severely injured, as one bullets pierced through his neck and chin.
After taking treatment at a local hospital in Rajkot for two days, he was then shifted to his Ahmedabad based house. Being an Ayurveda doctor, he even refused to take allopathy treatment and remained at home.
When his health started deteriorating, he was then shifted to Apollo hospital few days back. However, he once again took discharge and went home.
"He was admitted to our hospital, but, he took discharge and went home on Saturday," said Dr Abhijat Sheth of Apollo hospital.
Both Asaram and Sai are behind bars after they were accused of rape on two sisters in their Motera and Surat based ashram around 17 years back.
The older of the two sisters had levelled allegations that Asaram had repeatedly sexually assaulted her while she was living in the Motera ashram on the outskirts of the city.
While younger sister alleged that Narayan Sai had repeatedly physically assaulted her when she was living in his Surat based Ashram. Police had filed two separate rape cases against them.
Earlier, three key witnesses of the rape cases were attacked in Surat one month back in different incidents. After the arrest of 8 men, Surat police revealed that all of them were 'sadhaks' of Asaram and Sai, and wanted to eliminate all the key witnesses to weaken the case.