The Congress on Friday welcomed the statements of opposition leaders condemning Rahul Gandhi's disqualification from the Lok Sabha and said it was now time for the party to take on the job of building the opposition unity in a "systematic way".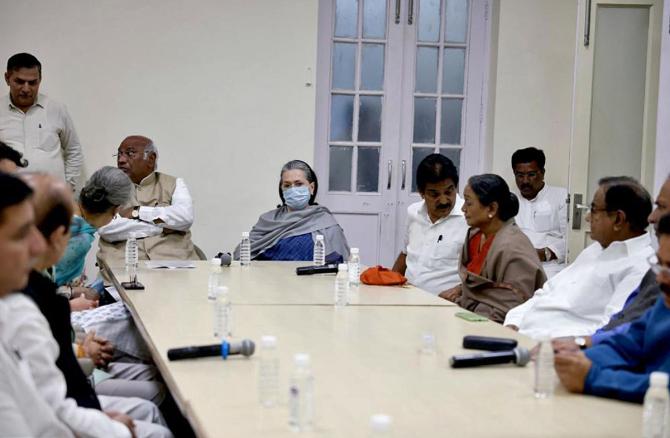 The grand old party also said it has been coordinating with various opposition parties in Parliament and now the coordination has to be outside the two Houses as well.
Leaders of almost all opposition parties on Friday rallied around Rahul Gandhi, after he was disqualified from the Lok Sabha following his conviction by a Gujarat court in a defamation case, and accused the Bharatiya Janata Party of doing "vindictive politics".
The Congress said it will fight the battle legally and politically for its former president. It got the support of parties such as the Trinamool Congress, Aam Aadmi Party, Samajwadi Party, and Bharat Rashtra Samithi, which had earlier said they would maintain equal distance from both the BJP and the Congress.
Addressing a press conference at AICC headquarters, Congress general secretary Jairam Ramesh said the party welcomes the statements by opposition leaders condemning the action against Gandhi.
It was noted today that many opposition parties have condemned the action taken by the government unilaterally with such lightning speed to disqualify Rahul Gandhi, he said.
"Yes, there was a consensus that we should now take the job of building opposition unity in a systematic way. Everyday Leader of Opposition in Rajya Sabha Mallikarjun Kharge has been meeting floor leaders of Lok Sabha and Rajya Sabha. So we are coordinating in Parliament and now coordination has to be outside Parliament," he said after a meeting of top brass of the party, including party chief Kharge and former AICC chief Sonia Gandhi.
"It is also heartening to note that parties which were not part of this floor coordination in Parliament have now issued public statements condemning this action of disqualification of Rahul Gandhi," Ramesh said, adding that the Congress welcomes the statement of support of all opposition leaders.
State units and frontal organisations of the Congress will launch different programmes across the country and they will begin from Monday with a countrywide agitation, he said.
"We will go all over the country saying that Rahul Gandhi has been deliberately disqualified, as he has been raising his voice against the Modi government on various issue including demonetisation, GST, foreign policy, and the government's intentions and policies," Ramesh said.
West Bengal Chief Minister Mamata Banerjee, whose party TMC, has been at odds with the Congress over remarks made by Adhir Ranjan Chowdhury and has been absent in opposition marches held over the last few weeks, reacted strongly against Gandhi's disqualification.
"In PM (Narendra) Modi's New India, opposition leaders have become the prime target of BJP! While BJP leaders with criminal antecedents are inducted into the Cabinet, opposition leaders are disqualified for their speeches," Banerjee tweeted.
"Today, we have witnessed a new low for our constitutional democracy," she added.
Support for Gandhi came from parties which have stood by the Congress through the last few weeks as the party led the opposition on the Adani issue. Voices of anger, shock and disbelief came from parties such as the Rashtriya Janata Dal, Jharkhand Mukti Morcha, Communist Party of India, CPI-Marxist, Shiv Sena, Dravida Munnetra Kazhagam, and Nationalist Congress Party, among others.
Delhi Chief Minister Arvind Kejriwal described Gandhi's disqualification as shocking and called on the public to rise against the BJP's "arrogant" power.
"The expulsion of Rahul Gandhi from the Lok Sabha is shocking. The country is passing through very difficult times. They have kept the whole country scared. 130 crore people will have to unite against their arrogant power," he said in a tweet.
Samajwadi Party leader Akhilesh Yadav called for "fighting on the street" against the BJP.
"The person who has alleged defamation should actually accuse those of it who betrayed their country and fled abroad, causing harm to their name and fame," he said.
BRS national president and Telangana Chief Minister K Chandrashekar Rao said that the disqualification of Gandhi was a "black day" in the history of Indian democracy and shows the height of Narendra Modi's "arrogance and dictatorship".
© Copyright 2023 PTI. All rights reserved. Republication or redistribution of PTI content, including by framing or similar means, is expressly prohibited without the prior written consent.