Several global models are predicting El Niño to appear around the second half of the year, which are the crucial rain-bearing months.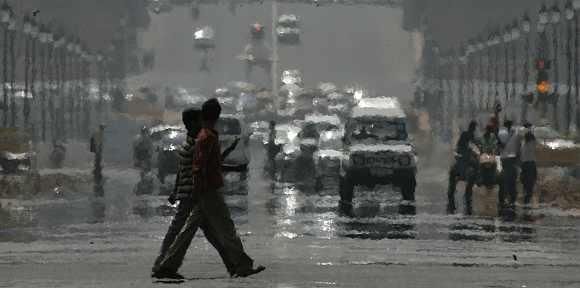 Planet-warming threshold of 1.5 degrees Celsius (1.5°C) is feared to be breached this year, triggering a cascading impact on India's weather patterns, including the monsoon. A 1.5°C increase in the average Earth's temperature is measured over a base of pre-industrial temperature.
Rain patterns in India are also expected to get altered with the return of El Niño in 2023.
Climate scientists and meteorological agencies the world over say that El Niño will exacerbate climate change-related impact and cause the planet's temperature to briefly cross the 1.5°C warming threshold.
With El Niño set to return this year, an already warming Earth and ocean surface due to global climate changes could see unprecedented and extreme weather events. As the Pacific heats up, the Indo-Pacific region could see stark weather, ranging from heatwaves and floods to droughts.
Indian meteorologists are of the view that the actual impact of El Niño on the rainy season is too far away to predict.
"There are only some models predicting an El Niño during the approaching monsoon season. It is too early to hazard a guess because the long duration forecast of the El Niño is less accurate," Mrutyunjay Mohapatra, director-general, India Meteorological Department (IMD), told Business Standard.
Return of El Niño
Several global models are predicting El Niño to appear around the second half of the year, which are the crucial rain-bearing months.
El Niño occurs when the surface water in the Equatorial Pacific becomes warmer than average and the east winds blow weaker than normal. The weather pattern generally occurs every three to five years.
El Niño is part of a much bigger global weather variation known as the El Niño-Southern Oscillation (ENSO), which refers to changes in sea level air pressure patterns in the Southern Pacific Ocean.
ENSO's 'neutral' conditions eventually developing into El Niño are still in the realm of possibility. "But traditionally, El Niño has not been good for Indian monsoons. Just how severe El Niño will be and whether it will happen will get clearer by March," said the IMD chief.
Data shows that El Niño has had an overbearing impact on Indian rainfall and 80 per cent of the El Niño years have seen below-normal rains in the country, while others have also been outright drought years.
The southwest monsoon, which starts in June and ends in September, is the lifeline for Indian farmers and a key determinant in the broader economy as it provides over 70 per cent of the annual recipitation that the country gets.
Woes of climate change worsen
"During El Niño, a lot of accumulated heat gets released, from which we get what we call a 'mini global warming'. At a global level, we are not sure, but locally we might see a temperature increase by 1.5°C," said Raghu Murtugudde, an Earth system scientist.
The latest report by Australia's Commonwealth Scientific and Industrial Research Organisation said the influence of climate change on El Niño and La Niña events, in the form of ocean surface temperature changes in the eastern Pacific, will be detectable by 2030. This is four decades earlier than previously thought.
"What climate change does is roll the dice. Events that will happen every 50 years will start happening every 20 years and so on. Terra flood, for instance, was a once-in-100-year event but happened two/three times after that. The event return period has started to get shorter. We must watch out for what global warming is already doing and how El Niño will bump it up," said Murtugudde.
Heatwaves in the North, drought in the Centre, floods in the East
In 2009, India witnessed its last big drought in recent times and the worst in 30 years. Being an El Niño year, the southwest monsoon in India was almost 22 per cent less than normal, with deficient or scanty rains in 60 per cent of the country.
The drought was most severe in the eastern, central, and northern parts of the country. Saransh Bajpai, senior manager, World Resources Institute India, said various temperature anomalies are already happening because of anthropogenic changes, global warming, and climate change, which El Niño is bound to amplify.
"There is evidence that because of El Niño, we might even cross 2°C. This is double jeopardy as temperatures breaching 1.5°C will impact global climate as well," he said, adding that landlocked states in Central India and Northwest states, including Delhi and Uttar Pradesh (UP), would face severe heatwaves.
At the same time, due to rainfall variance from Northwest India to Pakistan, Murtugudde said floods in northern Maharashtra, Gujarat, and Punjab are likely.
"Overall rainfall might be reduced, but we might still see floods. But parts of Delhi, Bihar, UP, and Chhattisgarh may see drought-like conditions," he said. With every state set to face a different climate crisis, Bajpai said preparedness is the need of the hour.
"India as a sub-continent is threatened by this event. Every state needs to have a short-, medium-, and long-term climate adaptation strategy laid out," said Bajpai.