Here's what some states are doing to get a grip on the situation. Ruchika Chitravanshi & Aneesh Phadnis report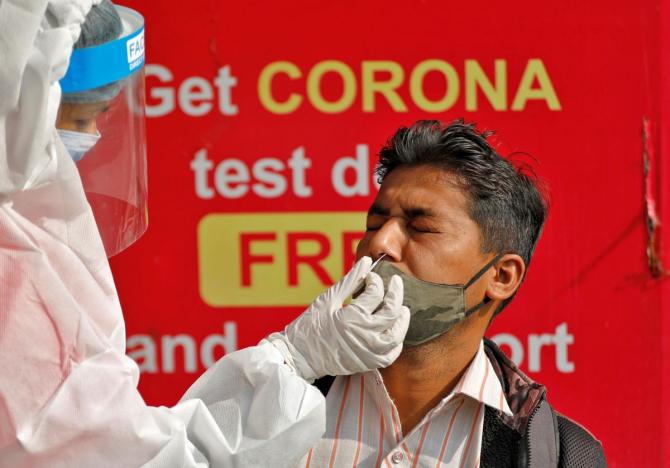 With daily cases of Covid-19 showing a surge in some parts of the country, various state governments are putting in place restrictions to contain the spread of the virus and prevent a second wave. Nearly 75 per cent of the cases currently are from Maharashtra and Kerala.
Here's a look at what some states are doing to get a grip on the situation.
Delhi
> All passengers arriving from Maharashtra, Kerala, Chhattisgarh, Madhya Pradesh and Punjab are required to show a negative RT-PCR test report to enter the city from today (Friday) to March 21.
> Only those arriving by public transport -- flight, train or bus -- will have to produce a negative test report. Those travelling by private vehicles are exempt.
Maharashtra
> Restrictions on all political and religious gatherings
> Proposal for staggered work timings in state government headquarters, state secretariat
> Night curfew imposed in several cities
> Janta curfew in Latur on February 27 and 28
> Week-long lockdown in Akola, Amravati districts of Vidarbha
Mumbai
> Buildings with more than five Covid-19 patients will be sealed
> Stamping of hands of positive patients advised
> 300 marshals will be appointed to take action against passengers travelling without mask in suburban railways
> Number of marshals will be doubled to take action against citizens without masks, with an aim to catch 25,000 offenders every day
> Orders to raid marriage halls, clubs, restaurants etc to check Covid-appropriate behaviour
> Passengers coming to Mumbai from Brazil will be put in compulsory institutional quarantine
Karnataka
> Mandatory RT-PCR rule for commuters from Kerala, irrespective of the mode of travel
> Decision, however, put on hold in the state's border Dakshina Kannada
> Hostels, boarding or residential, educational institutions with a cluster of five or more Covid cases to be declared a containment zone
Tamil Nadu
> Persons coming from other states and union territories (except Kerala and Maharashtra) required to self-monitor their health for 14 days
> Those coming from Kerala and Maharashtra to undergo mandatory home quarantine for seven days and then self-monitor their health for symptoms for the next seven days
> All symptomatic persons arriving from other states to be subjected to Covid-19 testing
International arrivals
On February 17, the Centre issued special directions for those coming from the United Kingdom, Europe and West Asia. All such passengers have to submit a self-declaration form before the travel and upload a negative test report. Arrival in India without negative report to be allowed only for those travelling in the exigency of death in the family.
Airlines have to identify the international travellers arriving from/transiting through United Kingdom, Brazil and South Africa (in the past 14 days) and segregate them in-flight or while disembarking, where they have to take a self-paid molecular test at the Indian airport.
If the test report is negative, they will be advised to self-monitor their health for 14 days. Those found positive would be kept in institutional quarantine and tested again on the seventh day.