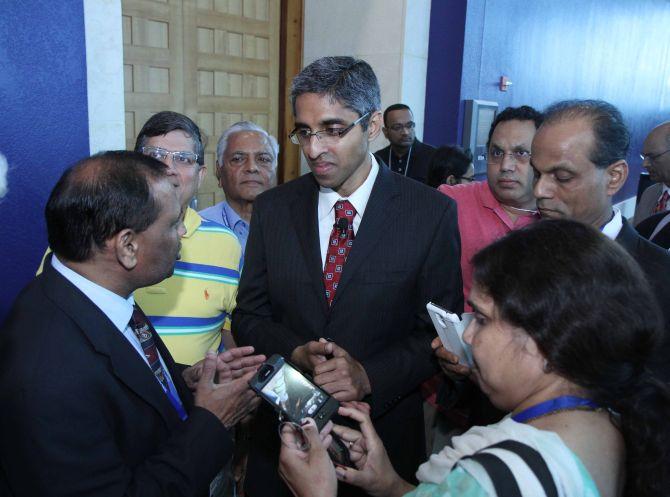 Lauding the Senate confirmation of 37-year-old Vivek Murthy as the youngest ever Surgeon General, more than a year after his nomination, US President Barack Obama has said the Indian-American physician would hit the ground running as the country's top doctor.
"I applaud the Senate for confirming Vivek Murthy to be our country's next Surgeon General.
"As 'America's Doctor,' Vivek will hit the ground running to make sure every American has the information they need to keep themselves and their families safe," Obama said in a statement.
The Senate confirmed Murthy's nomination by 51 to 43 votes.
"He'll bring his lifetime of experience promoting public health to bear on priorities ranging from stopping new diseases to helping our kids grow up healthy and strong," he added.
The President further said Murthy will also help us "build on the progress we've made combating Ebola, both in our country and at its source."
He is the first ever Indian-American to occupy the post.
Regarding the tasks at hand for Murthy, Obama said: Combined with the crucial support for fighting Ebola included in the bill to fund our government next year, Vivek's confirmation makes us better positioned to save lives around the world and protect the American people here at home."
Senate majority Leader Harry Reid said: "He will make a fine Surgeon General and will be the first Indian-American in this position.
As a physician at Brigham and Women's Hospital in Boston, he served his community while also educating the next generation of doctors as an instructor at Harvard Medical School."
The Indian-American community, a number of top lawmakers and anti-gun lobbying groups welcomed Senate's decision noting that this was long awaited and this has resulted in defeat of the strong pro-gun lobby group represented by the powerful National Rifle Association.
"His (Dr Murthy's) confirmation is an epic victory for all Americans," said M R Rangaswami, founder of Indiaspora, who had led the community's effort in support of Murthy at the Capitol Hill along with other Indian-Americans and the influential Asian American Physician of Indian Origin.
"This process will be a case study on how Indian Americans came together to stand up for someone in our community who deserved to be confirmed months ago.
"It demonstrates our growing strength and influence when we come together for a common objective," he said.
"I hope that this victory will be a catalyst for our community to become more engaged with public issues in the future," he added.
"It is a great day for the Indian American community," said eminent Indian-American Shekar Narasimhan, who along with a number of other community leaders were present in the Senate Gallery during the voting.
"I'm thrilled the Senate has confirmed Dr Vivek Murthy as our next surgeon general," said Congressman Ami Bera, who is the only Indian-American lawmaker in the current Congress.
"As a practising physician and instructor at Brigham and Women's Hospital, a champion of innovation in medicine, and a leader in the medical community, Dr Murthy is an excellent choice for this role and his appointment is historic for the Indian-American community."
"As a doctor myself, I also know that the American people will benefit from having a trusted physician leader to help them navigate the complex medical issues we face today," Bera said.
Congressman Joe Crowley, Vice Chair of the Democratic Caucus and Co-Chair of the Congressional Caucus on India and Indian-Americans, said it is a victory for the medical community with a dynamic and skilled physician leading public health policies as the nation's top doctor.
"I'm glad that this nomination didn't fall victim to partisan bickering and pressure from special interests, but this is more than a political victory.
"The confirmation of the first surgeon general of Indian descent is a victory for the entire Indian-American community, whose young children will grow up knowing that anything is within their reach," Crowley said.
The anti-gun lobby described Murhty's confirmation as a victory for the public health and safety of the nation.
"This is a huge victory for Brady and for the public health and safety of our nation. Now we have a Surgeon General who recognises that gun violence is a serious public health issue that America urgently needs to address," said Dan Gross, president, Brady Campaign to Prevent Gun Violence.
"This victory represents a major triumph over the corporate gun lobby 'lap dogs' in the Senate who fought to defeat Dr Murthy's confirmation on behalf of their billion-dollar benefactors," he said.
The NRA previously opposed the successful confirmation of Todd Jones as director of the Bureau of Alcohol, Tobacco, Firearms and Explosives.
Murthy's nomination received broad support from more than 50 organisations in the medical and public health communities, such as the American Academy of Pediatrics, the American Academy of Family Physicians, the American College of Physicians, the New England Journal of Medicine, the American Public Health Association, the American Hospital Association, the American Cancer Society, and the American Diabetes Association.
National gun violence prevention organisations including the Brady Campaign to Prevent Gun Violence have been pushing for his confirmation.
"I am excited to share this historic moment with the Indian-American community," Congresswoman Grace Meng said.
"Less than a week after the Senate approved Richard Verma as the first American of Indian descent to serve as Ambassador to India, Murthy was confirmed as the first Indian-American to be Surgeon General.
"These outstanding, back-to-back accomplishments illustrate the continued growth and influence of Indian-American community, and highlights the exceptional contributions that Indian-Americans make to our nation," she said.
Image: Vivek Murthy, America's youngest ever Surgeon General. Photograph: Paresh Gandhi/Rediff.com