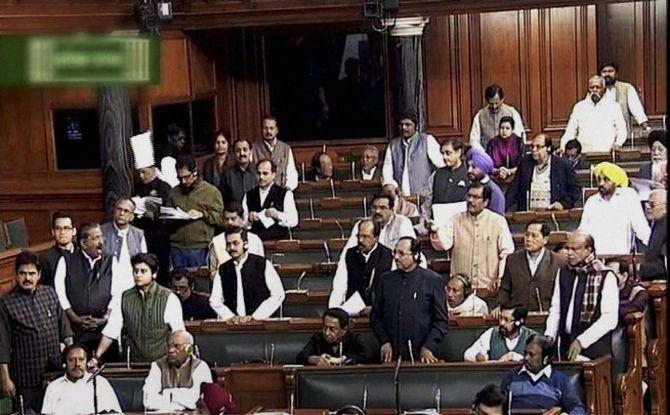 The controversial political developments in Arunchal Pradesh created an uproar in the Lok Sabha for the fourth day on Friday, with Congress members, led by party president Sonia Gandhi, staging a walkout, protesting against not being allowed to have their say on the issue.
"Stop partiality," shouted the agitated Congress members as they left the House, with party leader Mallikarjun Kharge announcing a boycott of the proceedings for the day.
The Janata Dal-United and the Nationalist Congress Party also joined the walkout.
Gandhi was herself in the well for a while along with Kharge who pleaded with Speaker Sumitra Mahajan to allow him to have his say, claiming that the developments in Arunachal were a sign that democracy is in danger. However, the speaker remained unmoved.
During Question Hour as also during Zero Hour, Congress members stormed the well, demanding the recall of the Arunachal Pradesh governor and shouting slogans like 'stop dictatorship' and 'dismiss the governor'.
During Question Hour, when the speaker disallowed notices of adjournment motion moved by some Congress members on certain actions of the Arunachal Pradesh governor, Kharge said a 'new turn' has taken place following the verdict of the Guwahati high court.
The speaker made it clear that no reference to the high court can be made in the House and the Arunachal issue has already been raised. Parliamentary Affairs Minister M Venkaiah Naidu also urged the Chair to delete the reference made to the high court.
"You raise slogans every day. The government can't take decisions and the House cannot run like this," the speaker observed.
Apparently referring to the Congress, she said, "With years of rule and presence in the House, you have experience ... proceedings will take place as per the rules and procedures."
At one point, exasperated by their continued protests, a peeved speaker directed her officials to note down the names of Congress members standing in the well, raising slogans against the government.
After Congress members staged a walkout, Minister of State for Parliamentary Affairs Rajiv Pratap Rudy disapproved of their action to first disrupt Question Hour by storming the well and seeking to have their say in Zero Hour.
Agreeing with the Chair's decision of not allowing the Congress to raise the matter, he said that the government was ready to discuss any issue and was confident of satisfying the Opposition, but the tactics adopted by it were not acceptable.
This led to protests by a section of the Opposition. All India Majlis-e-Ittehadul Muslimeen chief Asaduddin Owaisi wondered why the minister did not speak when the Congress members were in the House.