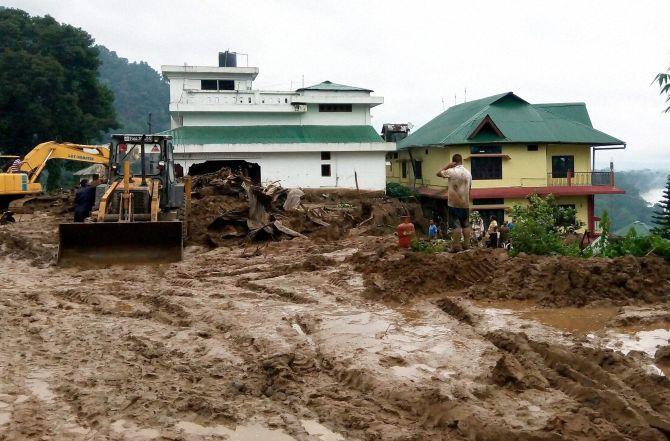 At least five persons, including two women and a teenager, were on Friday killed while five others remained missing in a landslide that buried several houses in Arunachal Pradesh's West Kameng district, which is being lashed by torrential rains.
The landslide occurred when a small hillock near the Old Inspection Bungalow caved in and buried several houses in Bhalukpong town, West Kameng district superintendent of police A Koan said.
While five bodies were retrieved from the debris, five others were still missing as rescue operation had to be suspended due to darkness and would resume tomorrow morning.
The SP, who is camping at Bhalukpong to supervise rescue operations, said torrential rains in the past couple of days have triggered flood-like situation in the town bordering Assam.
Three persons have been rescued from the debris, but they have sustained serious injuries, he said.
The bodies extricated from the debris were identified as Leel Bahadur Chetry, 57, Dilip Gwala, 15, H Barman, 54, Durga Barman, 45, and Rina Barman, 24.
Those who remain missing are Pinky Boro, 40, Miali Chetry, 40, Niki Boro, 10, Juala Chetry, 10, and nine months-old Angel Lenua, the SP added.
A National Disaster Response Force team from Doimukh, near Itanagar, comprising two senior officers and 30 personnel left for Bhalukpong in the evening in five vehicles equipped with life-saving equipment including Medical First Responder and Collapsed Structure Search and Rescue.
According to an official report, the torrential rain that triggered landslides on a road near Tippi has caused substantial damage to school buildings, circuit house and storehouses of Public Health Engineering, Public Works Department, Water Resource Department and Rural Works Department besides flooding the local police station.
Governor J P Rajkhowa has expressed shock and grief over the loss of lives in the landslide.
While mourning the deaths, Rajkhowa announced an ex gratia relief of Rs one lakh each for the next of kin of the victims from his relief fund.
He cautioned the people and advised them to remain alert and take necessary precautions as the state is experiencing torrential rainfall, a Raj Bhawan release said.
Chief Minister Kalikho Pul also expressed grief over the loss of lives.
Pul, who is monitoring the situation from New Delhi, has directed the West Kameng district administration to mobilise all heads of departments, officials and staff, including the Army, Indo-Tibetan Border Police and local police for search and rescue operation.
He announced an ex gratia relief of Rs four lakh for the deceased and Rs one lakh each to the injured and assured that the state government will bear all medical expenses.
Pul also directed the authorities to dispatch teams from Itanagar to the site with ambulances, paramedics and nurses and also asked them to set up medical camp at the site.
IMAGE: Workers remove the debris of a massive landslide that buried several houses at Bhalukpong in Arunachal Pradesh on Friday. Photograph: PTI Photo