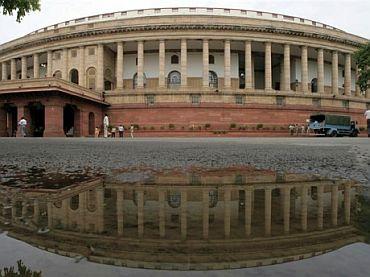 Congress president Sonia Gandhi and former prime minister Dr Manmohan Singh will lead a delegation of Congress MPs to meet President Pranab Mukherjee on Wednesday at Rashtrapati Bhavan, over developments in the Arunachal Pradesh assembly.
Earlier, the members of the Congress disrupted Rajya Sabha proceedings raising questions over Arunachal Pradesh Governor Jyoti Prashad Rajkhowa's role and sought his dismissal alleging that his actions amounted to murder of democracy and Constitution.
Raising the issue, Leader of Opposition Ghulam Nabi Azad suggested that the Governor was interfering with the activities of the state government and the Legislature over summoning of Winter Session of the assembly and deciding its agenda without the state government requesting for it.
"Governor of Arunachal Pradesh is behaving like a dictator. This is the most undemocratic thing that had not happened even during the British period," Azad said.
Rajkhowa has summoned the Winter Session of the 6th legislative assembly from on Wednesday till December 18, modifying the November 3 order summoning the assembly from January 14 to 18 next year.