Vivan Sundaram, a pioneering multidisciplinary artist who often used his work, melding sculptures, photographs, videos and paintings, to reflect contemporary issues of the day, died in New Delhi on Wednesday. He was 79.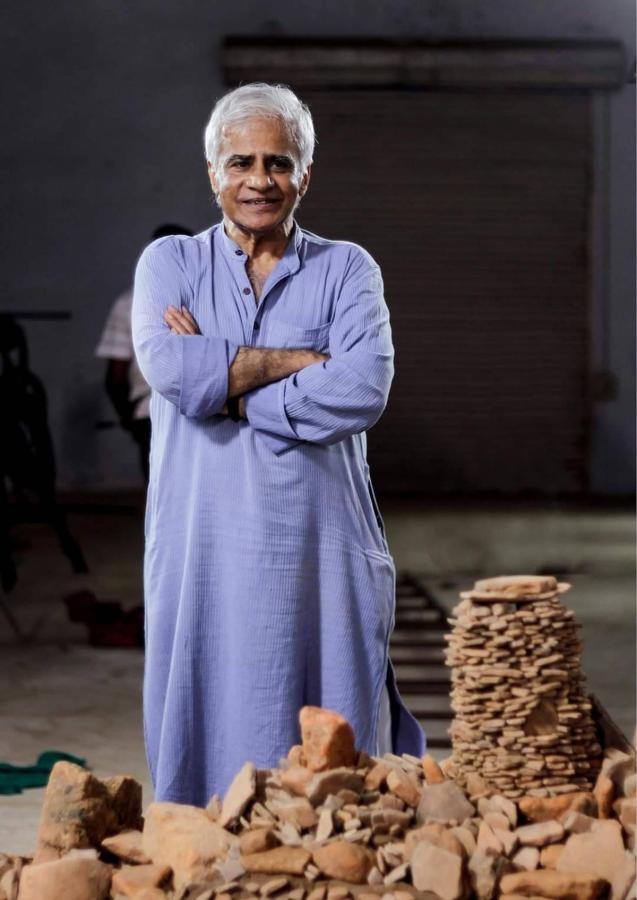 "Vivan Sundaram passed away this morning at 9.20 am," read a note issued by the Safdar Hashmi Memorial Trust (SAHMAT), of which Sundaram was a founding trustee.
Social activist and friend Shabnam Hashmi said Sundaram had been ailing for the past few months with multiple issues.
"The last three months he was going in and out of the hospital," Hashmi told PTI about the artist and activist.
Sundaram, nephew to the legendary artist Amrita Sher-Gil, is survived by his wife, art historian-critic Geeta Kapur.
His last rites will be performed at 12 noon at Delhi's Lodhi Crematorium on Thursday.
Born in Shimla in 1943 to Kalyan Sundaram, former chairman of Law Commission of India, and Indira Sher-Gil, sister of Amrita Sher-Gil, the Delhi-based artist studied painting at Baroda's MS University and London's The Slade School of Fine Art in the 1960s.
Sundaram was also active in the students' movement of May 1968 in France. He later helped set up a commune in London where he lived till 1970.
On his return to India in 1971, he worked with artists' and students' groups to organise events and protests, especially during the Emergency years, SAHMAT wrote in a note.
"He has had a long-standing identity as an artist-activist engaged with artist groups and collectives, and has used different artistic strategies for collaboration and activism -- some of it straightforwardly political/left oriented," SAHMAT said.
His oeuvre, which moved from painting during his college years to engaging with photographs, videos and sculptural installation "has been widely considered crucial in the definition and development of installation as a practice in the country", Vadehra Art Gallery said.
"The loss of Vivan Sundaram is a loss to not only those who knew and loved him, but also a great loss to the global art community. He was a rare one in his creative and intellectual energy. His politics and activist side was one that we all admired and drew strength from," Roshini Vadehra, director of Vadehra Art Gallery, told PTI.
According to SAHMAT, Sundaram made installations since 1990 that include sculpture, photographs and video. Some of these are "Memorial", an elaborate work made in response to communal violence in Bombay and a monumental site-specific installation now referred to as "History Project" at Kolkata's Victoria Memorial. There was also continuing work on his family, including the installation, "The Sher-Gil Archive".
Sundaram is also editor of a two-volume book, Amrita Sher-Gil: a self-portrait in letters & writings, published in 2010, and managing trustee, with his sister Navina Sundaram, of the Sher-Gil Sundaram Arts Foundation (SSAF) set up in 2016.
His works have been exhibited across the world, including in the biennials of Kochi (2012), Sydney (2008), Seville (2006), Taipei (2006), Sharjah (2005), Shanghai (2004), Havana (1997), Johannesburg (1997) and Kwangju (1997).
His first retrospective, "Step inside and you are no longer a stranger", which brought together his 50 years of work and ideas, was held at the Kiran Nadar Museum of Art (KNMA), New Delhi in 2018.
Many in the art world and outside it mourned Sundaram's death.
Kiran Nadar, art collector and founder of KNMA, remembered him as somebody who "bravely handled himself" during the last few months of suffering.
"In a sense I believe he is in a happier place. I think he suffered a lot in the last one month and very bravely handled himself. I feel at a loss for words, he was somebody I really deeply admired. My heartfelt condolences to Geeta, who is completely shattered at this stage. May god give her strength to bear this loss," Nadar told PTI.
Sitaram Yechury, general secretary of the Communist Party of India-Marxist and a friend of Sundaram, wrote on Twitter that his "endearing gentle presence will be missed".
"Deeply grieved at the passing away of Vivan Sundaram, one of India's foremost creative artistic personalities. A dear friend whose life & work never lost focus in championing people's causes...," he said.
Civil rights activist Teesta Setalvad also took to the social media platform to mourn "a guiding star and a friend".
"Adious friend inspiration guide and so much more! SAHMAT has lost a guiding star and me a dear dear friend! Partner wife dearest friend Geeta Kapoor tightest hugs! Vivan Vivan Vivan.. Vivan Sundaram the artist fighter friend! Create tremors wherever you are!" Setalvad said.
Historian S Irfan Habib remembered Sundaram as "one of the most productive and creative artists".
"Very sad to hear about Vivan Sundaram's demise.... someone who could make a strong statement through his work of art. He spent decades in taking his art across the world," Habib wrote on Twitter.
Goethe-Institut/Max Mueller Bhavan, New Delhi, said the "deep legacy he leaves behind will continue to transform & inspire".
© Copyright 2023 PTI. All rights reserved. Republication or redistribution of PTI content, including by framing or similar means, is expressly prohibited without the prior written consent.