New Army Chief General Bipin Rawat on Sunday said while the country and the force want to maintain peace and tranquility at the border, it will not "shy away" from using its power in any form.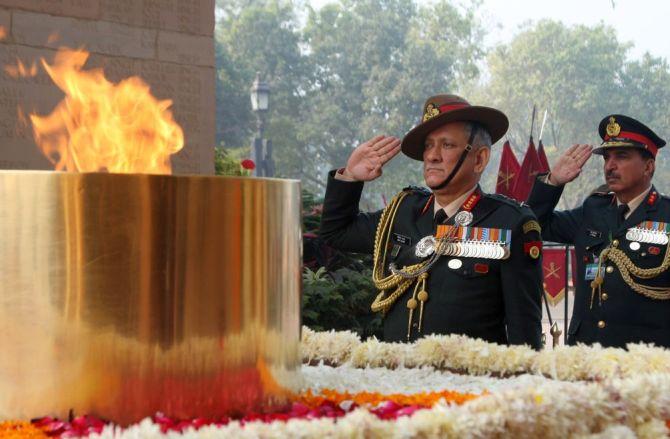 He also made it clear that Eastern Army commander Lt Gen Praveen Bakshi and Southern commander Lt Gen P M Hariz, whom he superseded, will continue to serve the army and help maintain its unity and power.
"Our country, our army wants peace and tranquility at the border. But it does not mean that we are weak. We are capable and powerful in all forms and if need be, we will not shy away from using our power in any form.
"Our aim is that peace is maintained at the border. But I will say it again that if need be, we will not hesitate in using our power," Gen Rawat said after reviewing the Guard of Honour at the South Block in New Delhi.
India shares a 3,323-km boundary with Pakistan, including a 749-km Line of Control. The Indian Army has lost over 60 soldiers in Jammu and Kashmir in 2016 and there have frequent ceasefire violations by Pakistan across the LoC.
Gen Rawat also sent across a message to all ranks of the army, saying every soldier counted.
"I am fully conscious of my responsibility to the rank and file of the army. Every individual, every soldier in the army counts irrespective of the arms and service he belongs to because it is the contribution of every soldier that makes the army efficient and strong," he said.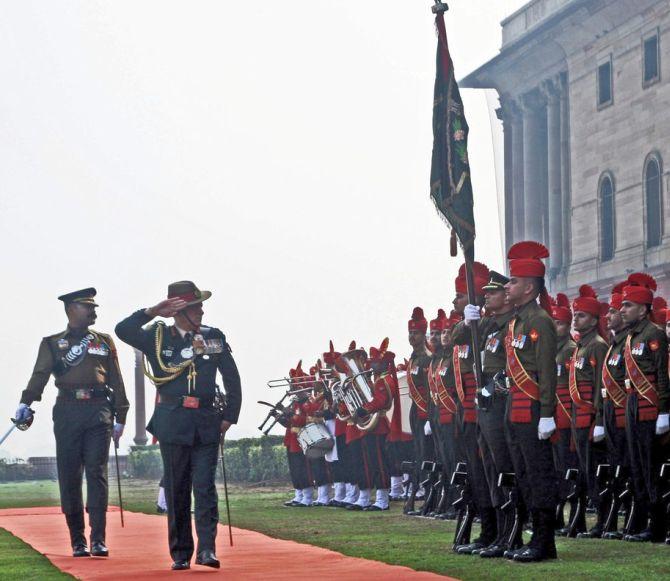 He had on Saturday taken over as the 27th chief of the 1.3 million strong Indian Army succeeding Gen Dalbir Singh Suhag, who retired after 42 years of service.
Gen Rawat said, "I would like to use the opportunity to convey to the rank and file in the army that everyone in the army, wherever or whoever he may be is equal in my eyes based on the tasks that they are required to perform."
His comments comes at a time when there is feeling among sections of the armoured corps that only the infantry, that Gen Rawat belongs to, has the upper hand and Lt Gen Bakshi could not make it only because he was from the armoured corps.
Both Gen Rawat and his predecessor Gen Suhag, along with senior officers in key positions, are from the Gorkhas.
Gen Rawat said he accepted the government's decision to appoint him as the chief with all humility.
"I respect the officers who have been superseded. They have worked with me shoulder-to-shoulder and I can say it for certain that they will continue to work shoulder-to-shoulder to keep the unity and power of the army in the future also," he said.
He said he is fully aware of the role and task that has been assigned to the army by the government.
"We are duty bound to maintain the security and sanctity of our borders, assist the government in the maintenance of internal law and order and also provide succour during any disaster that may befall any part of our nation," he said.
The army chief said that welfare of veterans, 'veer naris', other widows and those who have been disabled in the line of duty would continue to be taken care by the army till their last breath.
WATCH: Army Chief General Bipin Rawat pays his tribute at Amar Jawan Jyoti
Photographs: Indian Army
© Copyright 2021 PTI. All rights reserved. Republication or redistribution of PTI content, including by framing or similar means, is expressly prohibited without the prior written consent.