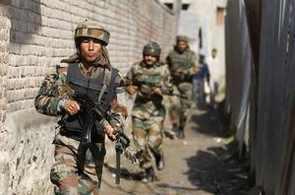 The army has gunned down two more intruding militants on the Line of Control in north Kashmir's Kupwara district.
The troops had foiled an infiltration attempt on Monday in the Keran sector of the district killing one intruding militant besides recovering arms and ammunition.
Lieutenant General Gurmeet Singh, general officer commanding of the army's Srinagar-based Chinar corps, told a news conference Tuesday afternoon that two intruding militants had been killed in the Machil sector of Kupwara on Tuesday morning.
"Today morning, five to six terrorists tried to infiltrate in Machil sector. Two of them have been killed and the rest fled across the LoC," the corps commander said.
This is the second infiltration bid along the LoC in Kupwara district since the past two days.
"The third operation against terrorists is presently going on in the Hafruda forest area near Handwara. The forest area is very dense. Our soldiers have shown professionalism during counter insurgency operations", he said.
"The terror infrastructure across and on the LoC is intact, but we have a very effective intelligence network now. Information sharing and joint assessment of the intelligence information is very effective."
"As Chinar corps commander I am very much satisfied that my counter insurgency grid is very effective".
Asked about the number of militants still active in the camps and waiting to sneak into the Valley, he said, "Numbers are not important. What is important is their intention".
He said all the security forces are acting with very good synergy with the army especially the officers and jawans of the state police.