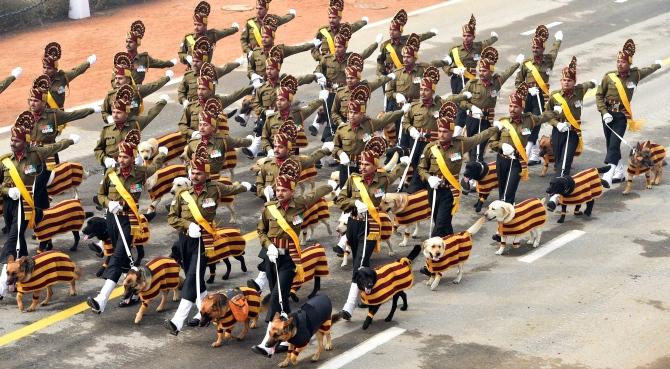 'After a gap of 26 years, 36 Indian canine soldiers, consisting of 24 Labradors and 12 German Shepherds, on Tuesday marched down the majestic Rajpath during the 67th Republic Day parade.
Chosen from about 1,200 dogs of the Indian Army, the selected dogs underwent an intensive training of four months.
Donning capes with bold stripes of maroon and gold, the unit's colors, the dogs, trained for explosive and mine detection, tracking, assault and guard duty, were lustily cheered by the crowd.
"The dogs are selected on the basis of requirements that we have in the army such as, mine detection, explosive detection, tracking, assault, guard, infantry patrol among others.
"Keeping in mind these requirements, we select the dog on the basis of their alertness, temper, aggressiveness, execution of command," Captain Anurag Boruah from the Remount Veterinary Corps said.
At present, the Indian Army uses four main breeds -- Labradors, German Shepherds, Belgium Mallinois and Great Mountain Swiss Dogs.
"It was a policy decision to showcase our canines. They take part in operation with us and have helped save the lives of so many soldiers," Major General Rajesh Sahai, Chief of staff, Delhi Area, had said recently.
As the dogs are not used to the increased noise levels like what prevailed on Rajpath, a special training session was held.
The handlers had been training with these dogs thrice a day so that they get used to the environment and remain unperturbed.
The army also maintains files pertaining to all aspects of the dogs. The dogs and their trainers of this Corps have won one Shourya Chakra, six Sena Medals, 142 COAS Commendation Cards, six VCOAS Commendation Cards and 448 GOC-in-C Commendation Cards.
Mansi, a four-year-old Labrador, and her Kashmiri master Bashir Ahmed War from the Territorial Army had made the country proud when they made the supreme sacrifice while gallantly fighting a group of heavily-armed infiltrators in the high altitude area along the Line of Control in Tangdhar sector in August last year.