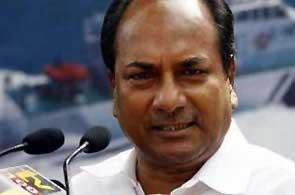 Army chief General Bikram Singh on Thursday briefed Defence Minister A K Antony on the Chinese incursion issue in Ladakh and the present situation there.
After reviewing the situation in Jammu and Kashmir and the Ladakh area with military commanders in the Northern Command, General Singh briefed the defence minister on the incursion issue on Thursday, army officials said.
The army chief had returned from Jammu and Kashmir on Wednesday evening after reviewing the situation there with Northern Army Commander Lieutenant General K T Parnaik, they said.
The army has given its inputs to the government and the National Security Advisor-headed China Study Group, which is handling the present situation in Ladakh.
The army has also given various options to the government on the issue including the aggressive use of military to handle the present situation.
All the options suggested to the China Study Group are being looked at carefully and other stakeholders in the situation have also given their inputs.
The China Study Group is handling the whole issue in consultation with the Prime Minister's Office and the defence ministry.
The army had rushed its troops from the 5 Ladakh Scouts battalion to the DBO area and they are camping there. The force is also considering the option of dispatching additional troops if the need arises.
A platoon-strength contingent of China's People's Liberation Army had come 10 km inside Indian territory in Burthe in the DBO sector on the night of April 15 and established a tented post there.