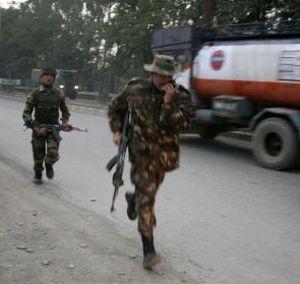 Army troops on Saturday busted a hideout of Lashkar-e-Tayiba in Jammu and Kashmir's Doda district and recovered a cache of army, ammunition and explosive material.
Acting on a tip off, a joint operation was launched by local Rashtriya Rifle unit and state police in Sukhni Nala area, a Defence Spokesman said.
The hideout was busted and war like stores including one 9mm Chinese pistol, two magazine, two AK -47 magazines, 7 rounds 9mm ammunition, 15 rounds 7.65mm LMG rounds, 256 rounds 7.62 mm AK, 17 UBGL grenades, four rounds HMG, two PIKA and two explosive grenades were recovered, he said.
Besides, two radio Set, one walkie talkie, one binocular, one letter pad of LeT and books printed in Sialkot were also recovered from the hideout, the spokesman said.
Image used only for representational purposes