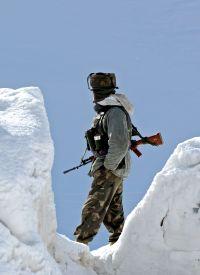 The army has been asked by the Jammu and Kashmir government to vacate lands in Khurbathang Plateau of Ladakh which it had been using for firing, operational and logistic needs.
The step has been taken in view of the government's policy to take back land from the army which has been either illegally occupied or in inhabited areas.
The home department of the government has issued notice to the army asking it to vacate areas in lower Khurbathang Plateau.
"A notice has been issued to the army to vacate entire land in lower Khurbathang Plateau in Kargil district," an official of state home department said. The issue was taken up by district administration Kargil with army authorities earlier, he said.
It has been decided that a joint survey of alternative land will be conducted this month. The survey was not conducted earlier due to accumulated snow in the area.
A draft memorandum of understanding has been signed between Ladakh Autonomous Hill Development Council Kargil and local military authorities to hand over 262.24 acres of land to LAHDC Kargil, subject to fulfilment of certain terms and conditions, he said.
It has been decided to provide alternative land of 75 acres at Mulbekh and 187 acres of land in upper Yogmathang to the army for operational and logistic needs, he said.