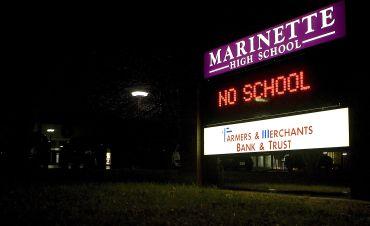 A 15-year-old youth armed with a handgun burst into a classroom and held 23 students and a teacher hostage for more than five hours in a small Wisconsin town before turning the gun on himself, police said.
The youth was hospitalised with gun shot wounds, with no immediate word on his condition, but the captives were unharmed, according to officials in Marinette Wisconsin, where the bizarre drama took place.
The town's police chief said all the students and the woman teacher who acted as a mediator between the hostage taker and authorities were released at 9 pm and no shots were fired.
"Earlier reports of injuries and gun shots being fired were incorrect", Jeff Skorik, the police chief said. The male gunman was not identified and rushed to the local hospital where his condition was not known.
The gun wielding young man, later identified as a student stormed into the school towards the end of the school day around 3 pm (2000 hrs GMT).
And then took the students hostage. Police said, the unidentified youth who was carrying two handguns, a .22 caliber semi-automatic and a 9mm pistol and empty cartridges at the crime scene revealed both weapons had been used.
The drama came to an end five and half hours later, just minutes after the gunman had released five students to allow them to use the washroom. As the students trooped out, police rushed in after hearing gunshots.
"The officers breached the door and entered the classroom and saw the suspect standing in the front of the classroom with guns and as police aimed at him asking him to surrender he shot himself".
The motive for the crime remained unclear, police said. Earlier, as negotiations were going on, a police commando team had ringed the school. The town is about 80 kilometres north of the city of Green Bay and has approximately 700 students. Police later closed the school till further notice.
Image: A display board states that the Marinette High School is closed, following the hostage situation in Marinette, Wisconsin
Photograph: Reuters