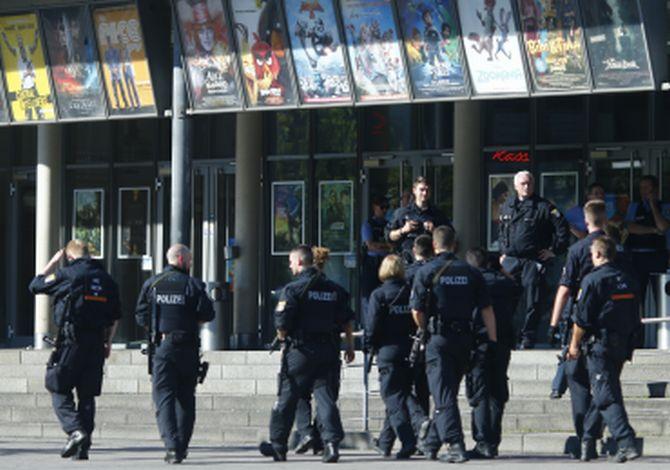 A masked and armed man barricaded himself in a German multiplex cinema with dozens of people inside Thursday before being killed by police, officials said.
According to local media reports at least 25 to 50 people were injured, possibly by tear gas in a police operation, at the cinema in the western town of Viernheim, 75 kilometres south of Frankfurt.
No hostages were injured in the complex.
A police spokeswoman in the nearby city of Darmstadt confirmed that 'all the hostages were unhurt and led out of the building'.
Initial reports had referred to dozens of wounded people and several shots fired, and police dispatched heavily armed special units to the site.
Later accounts said that several people had been hurt by tear gas during the police raid but this was also denied.
Authorities said they had no information on the man's identity or motive.
Although it was reported that the incident had 'no link to terrorism', police has repeatedly warned that the country could be a target by the Islamic State terror group.
Germany absorbed more than 1 million refugees last year, and there have been concerns about the possibility of IS cells in the country.
IMAGE: German police walks past a cinema complex after a masked man with a gun and ammunition belt opened fire in the small western town of Viernheim, near Frankfurt, Germany on Thursday. Photograph: Ralph Orlowski/Reuters