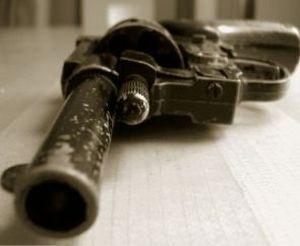 Two armed gangsters, who were on the run after killing two policemen and injuring 3 others on April 2 in Nalgonda district of Telangana were on Saturday shot dead in an encounter even as a constable lost his life in the gunfight, police said.
The two assailants involved in the April 2 Suryapet incident were killed on Saturday morning even as one constable died and two others; one inspector and one SI were injured during the encounter near Janakipuram under Mothkur Police station limits of Nalgonda district, they said.
Telangana DGP Anurag Sharma who visited the scene told reporters that following an information that two armed men, suspected to be belonging to a gang from Uttar Pradesh and wanted for Suryapet killings, were moving in the area following which a search operation was conducted.
"They were chased by a police team while they were fleeing on a bike. However, the assailants fired on the police killing one constable Nagaraju on the spot and in retaliatory firing, both of them were shot dead," the DGP said adding SI Siddaiah and CI Gangireddy were injured in the incident.
Asked about reports that the gangsters were SIMI activists, the Telangana Police chief said, "It is not yet confirmed...We are in the process of identifying them. We need to first establish their identity."
However, with the recovery of the carbine and bus-tickets from them, it is strongly suspected that they are the two assailants wanted in the Suryapet incident, he said.
"The SI and the CI were shifted to a hospital in Hyderabad. The SI's condition remains critical as he suffered three bullet injuries with two in brain and one in chest," the DGP said adding the CI's condition was stable.
On April 2, two policemen -- constable Lingaiah and Home Guard Mahesh were killed while three others including Circle Inspector Moghalaiah and a Home Guard Kishore suffered bullet injuries after two armed assailants opened fire on them during frisking at a bus stand in Suryapet town in Nalgonda. They had also taken away one carbine from the police before fleeing.
According to police, the assailants, while on the run had also fired at some cars soon after the incident that day and injured a Mandal Parishad Territorial Constituency member Dorababu who suffered bullet injuries on his shoulder.
Police had earlier stepped up surveillance following information that gang members from other states were involved in burglary in buses in Nalgonda district.