Hitting back at Prime Minister Narendra Modi for his corruption jibe at the Opposition, Congress president Mallikarjun Kharge on Wednesday accused him of running a "bhrashtachari bhagao abhiyan" (make the corrupt flee campaign), and said that he must stop his image makeover by posing as an anti-corruption crusader.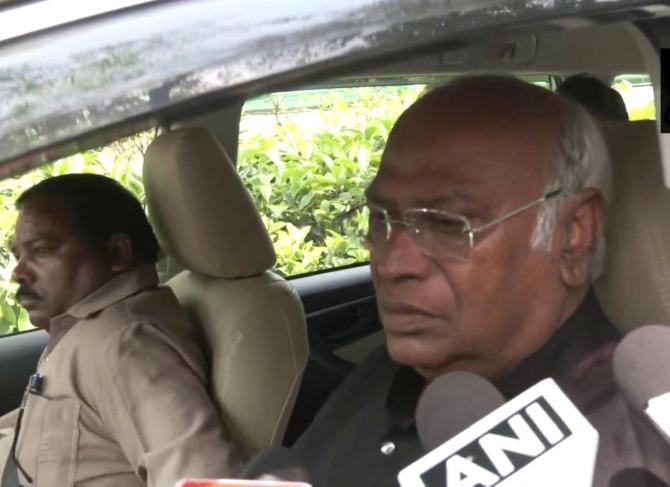 Addressing a gathering after inaugurating an extension of the Bharatiya Janata Party headquarters in New Delhi on Tuesday, Modi linked the coming together of opposition parties against the BJP to his government's campaign against corruption and said "anti-India" forces are attacking constitutional institutions -- the strong foundation of a rising India -- to stall the country's growth.
Reacting to the remarks, Kharge in a tweet in Hindi said, "Narendra Modi ji, whose Rs 20,000 crore is invested in Adani shell companies?"
"Are Lalit Modi, Nirav Modi, Mehul Choksi, Vijay Mallya, Jatin Mehta etc members of your bhrashtachari bhagao abhiyan? Are you the convenor of this alliance? Stop your image makeover by calling yourself an anti-corruption crusader," the Congress chief said, hitting out at the prime minister.
Kharge said Modi must look within, and asked why the BJP government in Karnataka was accused of taking 40 per cent commission.
"Why are you part of the No. 1 corrupt government in Meghalaya? Are BJP leaders not involved in Sanjivani Cooperative scam in Rajasthan, Poshan scam in Madhya Pradesh or NAN scam in Chhattisgarh?" he asked.
Kharge said the Enforcement Directorate is put after 95 per cent of opposition leaders while those joining the BJP are cleaned up in a "washing machine".
"If you have a 56 inch chest, set up a JPC (joint parliamentary committee) into Adani issue and hold an open press conference for the first time in nine years," the Congress chief said.
"Answer those who do not ask that -- 'How do you eat mango' or 'why you don't get tired'," Kharge said.
Asked about the prime minister's remarks, Kharge alleged that Modi was not taking action against fugitives who have run away with the money of banks and not ready for any inquiry or JPC.
"He (PM) is supporting corrupt people so it is like the pot calling the kettle black. We are asking him why he is not talking about Adani and he in turn accusing us of corruption. You are defending those responsible for big theft and calling others thieves, this is not done," the Congress president told reporters before leaving for Parliament in the morning.
The prime minister should speak the truth, but Modi only believes in insulting others, Kharge said.
In his remarks at Tuesday's event, Modi had said that the crackdown on the corrupt and corruption would continue without being hindered by "false allegations".
Never before in the history of independent India, has such a big campaign against corruption taken place and it has rattled the corrupt, he had said.
"All those involved in corruption have come onto one platform," Modi added.
© Copyright 2023 PTI. All rights reserved. Republication or redistribution of PTI content, including by framing or similar means, is expressly prohibited without the prior written consent.