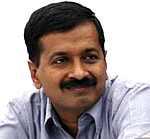 The Congress on Tuesday launched a counter offensive against Arvind Kejriwal daring him to issue a white paper on the finances for his campaign and rejected as "baseless" the fresh charges levelled by the activist against Robert Vadra saying there was "nothing new and no proofs"
Party spokesperson Rashid Alvi asked Kejriwal to file a criminal complaint in the matter and approach the court so that law can take its own course.
Casting doubts over the genuineness of the documents shown by Kejriwal to the media on Tuesday, Alvi said, "I do not think this is any proof. How will you say whether these documents are genuine or not. There is nothing new in whatever they have said."
Accusing Kejriwal of being a "publicity monger" who is "manipulating" the media, he said the activist would have gone to the court by now if he had any proofs.
"He has a habit of garnering publicity. The manner in which he is appearing with some papers before the media proves it. Who will verify whether these documents are true or not? There is a rule of law and when you act as per that, then the law takes its own course," Alvi said.
Rejecting the contention that government should order an inquiry on its own, he said "nothing happens suo motu. Instead of making charges in front of the media, if he had knocked at the doors of the court, it would have been better."
Alvi parried questions on why the Congress is not acting against Vadra, the son-in law of party chief Sonia Gandhi, despite charges of questionable dealings between him and realty major DLF when the party had removed Ashok Chavan as the Maharashtra chief minister over the issue Adarsh Housing Society scam.
Raising doubts over the source of the finances for Kejriwal's campaign, the Congress spokesperson also dared the activist to come out with a white paper on its finances.
Responding to Kejriwal's demands that the Haryana government should come out with a white paper into transactions between both the parties in the past ten years, Alvi said, "Has he approached Haryana government for this? White papers are not brought out by raising issues before the media."
He said if anything has happened in contrivance to the law, then law will take its course if somebody approaches the court. "If they feel that Haryana government has done something wrong, they should approach the state government. It will respond," Alvi said.
He also asked Kejriwal to look within saying those who claim to fight corruption should also have their records clean.
"From where all this money for his campaign is coming? Who finaces for all this preparations? Nobody is brining a white paper on this," Alvi said.