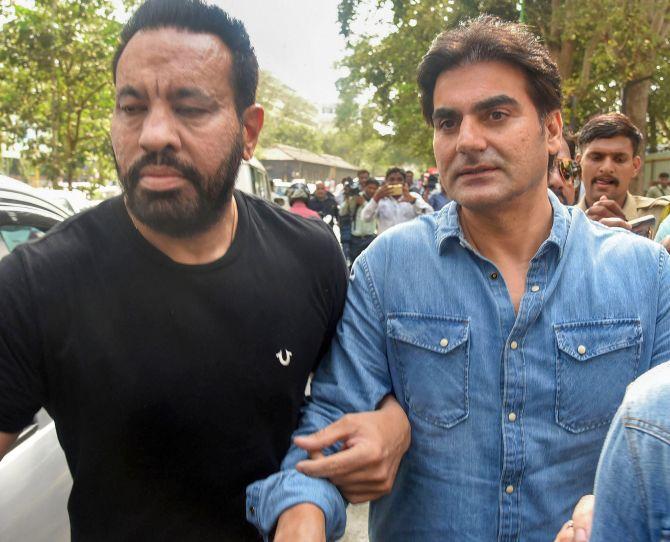 Bollywood actor and filmmaker Arbaaz Khan has told police that he has been betting on Indian Premier League cricket matches for the past five to six years, a police official claimed on Saturday.
The police also said that interrogation of alleged bookie Sonu Jalan alias Sonu Malad revealed that a prominent Bollywood producer was also involved in the betting racket.
The producer would be summoned soon, an official said.
Khan, who appeared before Thane Police's Anti-Extortion Cell on Saturday morning, also claimed that he had not placed bets on any match of the 2018 season of the Indian Premier League that ended on May 27, the official said.
"The actor told police that he has been betting on cricket matches for the past five-six years," the police official said on the condition of anonymity.
Jalan also told the interrogators that a Bollywood producer, who is the CEO of a film production-distribution company based in Mumbai, was his "partner" in the betting racket, the official said.
Police were going to summon the producer and question him, he added, without specifying if any letter has been sent to him.
The city police had on Friday sent a letter to Arbaaz Khan, asking him to join the probe in the wake of arrest of Jalan who was allegedly placing bets on the recently-concluded edition of IPL.
On May 15, the AEC busted a racket with the arrest of four people including Jalan who is believed to be one of the top bookies in the country.
During the investigation, a "connection" between Jalan and Khan was established, head of the AEC, Senior Inspector Pradeep Sharma had on Friday said.
Khan allegedly lost Rs 2.8 crore in betting to Jalan and was not paying the amount, following which the bookie had threatened the actor, police had said.