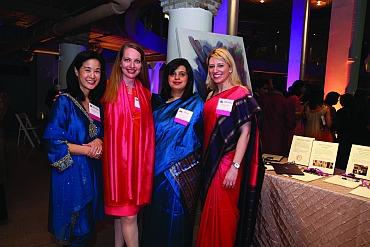 Kanta Khipple finds it a bit difficult to walk, but she would not leave the May 25 fundraiser for Apna Ghar till the nearly three-hour event was almost over.
Khipple, one of the five founding mothers of Apna Ghar, was eager to share with her friends and a journalist how the organisation has grown and how it has inspired similar endeavors in over 24 cities in America and Canada in the past two decades.
"Practically everyone who was there at the start is still with the organisation and many of us see our grown up children taking it over from us," she said, beaming at her daughter Ranjana Khan who is a board member of the Chicago organisation.
"See around you, you see many non-South Asians working for Apna Ghar. And they will also tell you that though our primary mission is to help South Asian women, we are also helping women from other Asian countries that have no origin in India and the neighboring countries."
Serena Chen Low, Apna Ghar's new executive director, has no South Asian in her family. She did not join the organisation, she said, just because it offered her a professional career.
"Before I applied for the position, I had come to know how effective Apna Ghar is," said Low, who brings 18 years of nonprofit and management experience to the organisation. "It is keeping its programs open despite the bad economic situation and cut in funding from government agencies."
Apna Ghar helps victims of domestic violence with legal help and shelter, and also offers programs to train the women for jobs. Among its unique services is therapy for children who have experienced violence in their homes, and a facility where divorced mothers can bring children to meet the fathers.
The organisation's third annual Taste for Life fundraiser May 25, which included a raffle draw, brought in about $70,000.
Janet Davies of ABC 7 Chicago was the master of ceremonies at the event, attended by about 400 people including community leaders and guests. Some of Chicago's best-reviewed restaurants donated food and staff for the event, which had the theme: flavors from around the world.
The restaurants and chefs that participated were: Emilio's Tapas, Ras Dashen, Metropolis Coffee, Gaylord's Indian, Rishi Tea, Edible Arrangements, Radhika Desai, Entertaining Company, Barrio Urban Taqueria, Thalia Spice, Vermilion, Tuscany, Inchi's Bamboo Garden, Tommy Nevin's Pub, Veerasway, The Peacock, and the Distinct Palette.
Other sponsors of the event included Pepsi and Indian-Wine.com. Sommelier Alpana Singh of WTTW Channel 11's Check Please! selected the wines. "Look around you, and you will find food from across the continents.
It just shows the goodwill Apna Ghar has created over the years," said Rambha Radhakrishnan, the organisation's president 
"We feel there should not be an organisation like Apna Ghar," said Khipple.
"But that would mean there is no physical or emotional violence against women. We also know that even while we help many women overcome the obstacles and terror created by violence, there are still many women who continue to suffer. And that is the reason we ought to keep Apna Ghar visible and strong."
Khipple, also a member of the Sikh Religious Society of Chicago, has helped organise educational and awareness-building events at the Palatine Gurdwara in Chicago. Members belonging to different faiths have taken the message to other religious and cultural organisation and events.
With degrees in social work and public health from American and Swedish universities, Khiple has had years of experience working with developmental programs across the world including the Caribbean.
"I see around me today many teenagers," she said, beaming. "A good cause like this needs the support of the young and old, women, men and children. And Apna Ghar is doing it very well."
Chen Low pointed out that the food-themed fundraiser was one of the many means Apna Ghar has to raise money. Its annual walkathons have raised about $25,000 per year. 
"People do not come to an event like this just to have fun and meet friends," she said. "They learn more about our organisation, they introduce our work to new people, and they create a lot of goodwill."