Andhra Pradesh and Telangana are in no a mood to end the tug of war over Olympic silver medallist Pusarla Venkata Sindhu.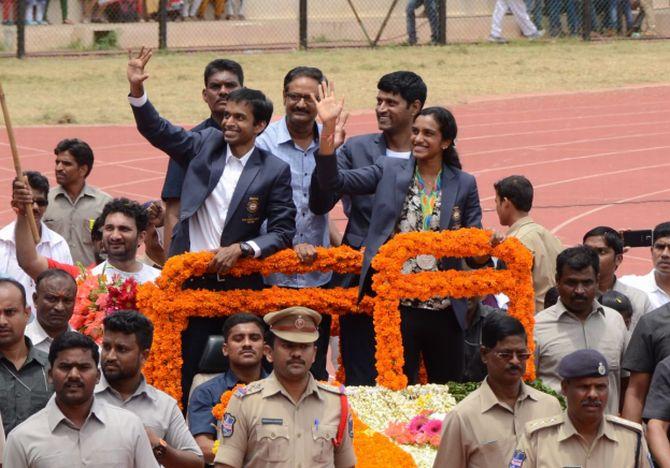 Both states claim Sindhu as their own despite her mentor Pullela Gopichand avoiding a controversy by saying that 'she belongs to India'.
The two states seemed to compete against the other in terms of prize money and organising a bigger reception for the badminton player.
On Monday, when Sindhu and Gopichand landed at the Rajiv Gandhi International airport in Hyderabad, some ministers from both Telangana and Andhra Pradesh were present to welcome her.
The Telangana government accorded a rousing reception and felicitated Sindhu and Gopichand at Gachibowli Stadium in Hyderabad.
At the felicitation event at the stadium, Telangana Deputy Chief Minister Mohammed Mahamood Ali described Sindhu as 'Telangana's pride', while Home Minister N Narasimha Reddy called her 'Telangana ammayi (girl)'.
"Because of our Sidhu, Telangana's name shone in the entire world," Ali said.
They were also invited to the Raj Bhavan where they were accorded a warm reception by Telangana and Andhra Pradesh Governor E S L Narasimhan and his wife at the Darbar Hall.
A day later, it was the Andhra Pradesh government's turn to accord a grand welcome for Sindhu at Vijayawada. The Chndrababu Naidu administration tried to put up a bigger and better show than Telangana.
Passing through different parts of the city, the 'victory rally' reached Indira Gandhi Municipal Stadium, where Chief Minister Naidu greeted, and even played badminton with Sindhu.
Sindhu was born and brought up in Hyderabad but her mother belongs to Vijayawada. Sindhu's father P V Ramana is from what is now Telangana, and thus, both the states claim her as 'their own'.
Andhra Pradesh government had announced a cash reward of Rs 3 crore after she won the silver medal at Rio on Saturday. However, within hours Telangana government went a step further and decided to give her Rs 5 crore.
On Monday, when a reporter sought Sindhu's views on the bragging rights, Gopichand jumped in to try and put an end to the regional controversy by simply stating, "Well, I can only say she (Sindhu) belongs to India."
Gopichand said it is great that various governments are praising and supporting her.
"We should celebrate the fact that all of them (states) want to be part of the celebration and support us."
Telangana also announced a cash reward of Rs 25 lakh each to Sindhu's physiotherapist C Kiran, besides extending financial assistance to Gopichand Academy.
And the AP CM announced, "We will give her 1,000 sq yards of house site in the state's new capital Amaravati and also a Group-1 officer post in the state government. She can choose the post she wants."
With inputs from agencies.
IMAGE: Shuttler P V Sindhu with her coach Pullela Gopichand wave at a crowd during a welcome ceremony at Gachibowli stadium in Hyderabad. Photograph: SnapsIndia