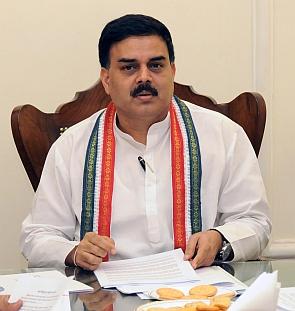 Fifteen rebel members of Legislative Assembly belonging to Andhra Pradesh's ruling Congress and main opposition Telugu Desam Party were today disqualified for voting in favour of a no-confidence motion moved by TRS against the Kiran Kumar Reddy government in March this year.
These MLAs had defied party diktats. Nine belonged to Congress and six to the Telugu Desam Party and they had joined YSR Congress of Y S Jaganmohan Reddy. The legislators were disqualified by state Assembly Speaker Nadendla Manohar under Rule 2 (1) (b) of the Tenth Schedule for voting on the against the party whip on the no-trust motion on March 15.
The Congress MLAs disqualified are Sujaya Krishna Ranga Rao, Dwarampudi Chandrasekhar Reddy, Alla Srinivas (Nani), M Rajesh, Perni Venkata Ramaiah (Nani), Jogi Ramesh, B Siva Prasad Reddy, Gottipati Ravi Kumar and Peddireddi Ramachandra Reddy.
The rebel TDP legislators are T Sairaj, Taneti Vanitha, Kodali Srivenkateswara Rao (Nani), Praveen Kumar Reddy, Amarnath Reddy and Y Balanagi Reddy. The speaker did not take any decision on the disqualification of three other TDP rebels -- Chinnam Ramakotaiah, K Harishwar Reddy and S Venugopalachari -- as hearing against them was said to be continuing.
A fresh petition filed by TDP against its MLA G Kamalakar, who switched over to Telangana Rashtra Samiti recently, is also pending before the speaker.
This is the second instance during the current assembly when a group of MLAs was disqualified en mass. On March 2, 2012, Manohar had disqualified 16 rebel MLAs belonging to Congress for voting against the Reddy government on a TDP-sponsored no-confidence motion.
Image: State Assembly Speaker Nadendla Manohar
Photograph: SnapsIndia