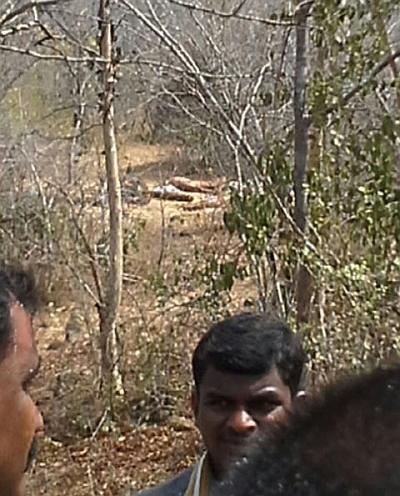 Twenty people were gunned down in Andhra Pradesh's Chittoor district in a police operation said to be against red sanders smugglers that came under severe attack from the government and political parties in neighbouring Tamil Nadu, which claimed 12 victims were labourers from their state.
Taking suo motu note of the incident, the National Human Rights Commission has issued a notice to the Andhra Pradesh government after one of its members observed that it involved "serious violation" of human rights of the individuals and the firing cannot be justified on the ground of self defence.
Human rights activists and a former AP deputy general of police also criticised the police action saying it was "disproportionate" to the crime.
Police claimed that six of its personnel were also injured in an attack by the smugglers allegedly armed with sickles, axes and country-made weapons. They claimed that the task force and forest personnel, during a joint combing operation, spotted over 200 red sanders woodcutters involved in felling trees and they were asked to surrender.
"However, the smugglers, armed with sickles, axes, swords, country-made weapons and stones, attacked the police and forest personnel injuring six policemen," Deputy Inspector General of Police (Special Task Force) M Kantha Rao told PTI. In retaliation, when the police fired in "self-defence", 20 of the smugglers were killed and many others fled the scene, he said.
The Andhra police action elicited strong political reaction from parties in Tamil Nadu. Chief Minister O P Panneerselvam wrote a strongly-worded letter to his Andhra counterpart N Chandrababu Naidu demanding a "credible and speedy" inquiry into the episode and responsibility fixed for possible human rights violations.
Acknowledging that some of these people Thiruvannamalai and Vellore districts of Tamil Nadu were engaged in illicit tree cutting, he said efforts could have been made to apprehend them than taking such a "drastic action".
The Dravida Munnetra Kazhagam, Bharatiya Janata Party, PMK, Congress and Communist Party of India claimed that poor labourers from the state were among the victims and asked the Andhra Pradesh government to "pursue lawful means" to check red sanders smuggling.
Claiming that they were innocent labourers from Tamil Nadu who were lured with higher wages to forests in neighbouring Chittoor, National Democratic Alliance ally, PMK chief Ramadoss said their being shot down without even an inquiry was unacceptable.
Dismissing claims of Andhra Pradesh police that they opened fire in self-defence, he said "it was a plain lie" and demanded a probe by a sitting judge of the Supreme Court besides seeking relief to those killed and action against police officials.
DMK chief Karunanidhi, in a statement said, the governments of both the states should announce relief to the families of the labourers killed in the exchange of fire.
Red sanders, an endangered species also called red sandalwood, has a huge demand abroad, specially in China and Japan, and commands a good price. It is grown mainly in Seshachalam hill ranges spread across Kadapa, Chittoor and Kurnool in Rayalaseema region and parts of Nellore district in Andhra Pradesh.
The NHRC sent a notice to the AP chief secretary and DGP on the basis of observations sent by one of its members Justice D Murugesan, who is camping in Thiruvananthapuram, sent his observations that the incident involved a serious violation of human rights. "The opening of fire cannot be justified on the ground of self defence since it resulted in the loss of lives of 20 persons," an NHRC released quoted Justice Murugesan as saying.
The NHRC demanded a report from explaining the act of police and forest officials within two months.
A former DGP of Andhra Pradesh also disapproved of the firing saying, "it seems excessive and disproportionate" to the crime. "Even if they are smugglers you can't justify opening firing. It can't be a justification," he said.
V S Krishna of the human rights forum, Andhra Pradesh, demanded registration of a case of murder against the policemen who had participated in the "encounter".
The police said a massive hunt is on at different check posts to nab the absconding smugglers. An aerial survey is also being undertaken in the forest area.
"They (red sander smugglers) have a history of attacking forest personnel and policemen. Two forest officials were stoned to death by red sander cutters in Seshachalam forest in December 2013," Rao said.
Tuesday's incident took place at two places in Seshachalam forest area of Chandragiri mandal in Chittoor between 5 am and 6 am.
"Twenty red sander smugglers have died at two places. There was an exchange of fire with our task force personnel. They (smugglers) were carrying red sander logs and attacked the police and forest personnel with sickles and fire arms.
They also attacked the personnel with stones," Additional DGP (Law and Order) R P Thakur told PTI. After the police personnel came under attack, they retaliated, he said.
"The smugglers, once challenged by the police, tried to overpower the security personnel and carry away the logs. In the process, they attacked the policemen," Thakur said.
There have been similar incidents last year also in which the red sanders smugglers attacked police and forest personnel, who too retaliated resulting in killing of some of the smugglers.
The Andhra Pradesh government had in June 2013 formed a Special Task Force to check smuggling of red sanders. The STF comprises officers from police and forest departments and it has been carrying out raids on the hideouts across Kadapa, Chittoor, Nellore and Kurnool districts to check the rampant felling of red sander trees.
The mandate of the dedicated team (the special task force) is to curb smuggling of red sanders in Kadapa, Chittoor and Nellore districts, from where illegal felling and transportation of the precious and endangered wood had been widely reported.