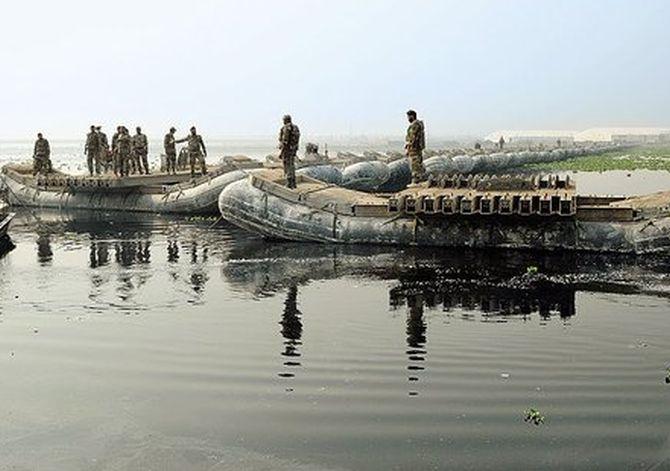 The Art of Living Foundation has deposited Rs 4.75 crore 'environment compensation' with the Delhi Development Authority as directed by the National Green Tribunal for 'damaging' Yamuna's biodiversity during its 'World Culture Festival' in March.
It, however, refuted the allegations that its three-day mega event had damaged Yamuna floodplains and hinted that it may approach the Supreme Court against the NGT's order which asked it to pay Rs 5 crore as compensation.
Sri Sri Ravi Shankar's Art of Living deposited the environment compensation through a demand draft to the DDA on June 3.
"Art of Living foundation has submitted a demand draft of Rs 4.75 crore as per the orders of the National Green Tribunal on June 3," advocate Kush Sharma, appearing for the DDA, said.
The green panel had on June 3 directed the expert committee headed by Shashi Shekhar, secretary of Ministry of Water Resources, to inspect the site on Yamuna floodplains, where the three-day festival was organised, before June 10. The panel had also asked to submit a 'complete and comprehensive' report in a sealed cover by July 4.
The bench had said that if the inspection was not done before June 10, the whole purpose of the visit by the expert committee would be 'defeated' as there were chances of rain.
It had also said that besides Shekhar, the inspection committee would comprise of senior scientist from National Environmental Engineering Research Institute Professor C R Babu, Professor A K Gosain, Professor Brij Gopal and two more members.
The tribunal had slammed AOL for not depositing the environment compensation imposed on it saying it was 'wilful violation' of its undertakings.
It had held that corporate entity cannot be used to promote irregularities and said it would even lift the 'corporate veil' and find 'real substance' of the matter while examining the case to ascertain the truth.
It had earlier dismissed AOL's plea seeking its nod to accept the environment compensation as bank guarantee instead of 'payment of balance amount' of Rs 4.75 crore.
The green panel on March 9 had refused to prohibit the festival held between March 11 and 13 but asked it to pay a compensation of Rs 5 crore for damaging biodiversity and aquatic life of Yamuna.
On March 11, AOL had moved a plea seeking four weeks time for depositing the amount after which the tribunal allowed the foundation to deposit Rs 25 lakh on that day and granted three weeks time period to pay the balance amount.
On Monday, AOL claimed that there has been no scientific assessment of pre and post situation of the floodplains till now.
Stating that they were 'sensitive' towards environment and can never cause any irreversible damage to the floodplain, AOL's legal and environmental experts also displayed satellite images and photographs to claim that no environmental damage was done.
"Our legal team is studying the NGT order. The Supreme Court is on vacation. We will soon take an appropriate step," AOL spokesman Kedar Desai told reporters.
Noting that the matter was still subjudice with the NGT, AOL experts said that they are yet to present their evidence to the tribunal that there was no ecological damage done to the Yamuna floodplains.
"There is no scientific assessment of the pre and post situation at Yamuna floodplains where World Cultural Festival was held. The judicial process in on and if we win, the money (Rs 5 crore) will be returned to us," Desai said.
Environment consultant Prabhakar Rao also showed a 1986 Survey of India map and claimed that the allegation of damage to wetland along Yamuna was 'wrong' since no such wetland existed there.
He also refuted other allegations of change of land form at Yamuna floodplains and damage to local biodiversity showing satellite images and site photographs of flora and fauna.
"The charge of damage to Yamuna floodplain is not correct since the World Cultural Festival's core venue was spread over just 24.44 acres," he said claiming that no harm was done to local flora and fauna during the WCF.
AOL expressed disappointment over controversy surrounding the WCF which was held at Yamuna floodplains on March 11-13, saying even foreign countries were interested in hosting the event.
"Even while the WCF was going on here, we were invited by three countries including Australia to hold such event there. It feels bad, as a country we should have felt proud over the event which was participated by people from 155 countries," Desai said.
AOL foundation has deposited Rs 4.75 crore 'environment compensation' with Delhi Development Authority as directed by the NGT for damaging Yamuna's biodiversity during the WCF in March.
The allegations of damage to land form through construction of roads and ramps and leveling of floodplains were also dismissed by Rao.
"The area where the event was held was under cultivation of vegetables since at least a decade. So it was already leveled and we did not undertake much leveling.
"It was also alleged that we constructed road and ramps but a 2007 image showed that those were constructed during an event organised by a media house in that year," he claimed showing a 2005 satellite image.
The much talked about mega stage constructed over 7 acre of land was also designed so as to cause minimum compaction on the floodplains even it incurred higher cost, he claimed.
"We have been accused of building a huge stage whose weight and compaction could hamper water percolation and charging of underground aquifer. But, the floating stage was designed with use of lakhs of pillars to cause maximum compaction although it was costly."
The Art of Living (foundation) is always sensitive to the environment and it can never cause any irreversible damage to the floodplain as has been alleged, he said.
The spokespersons of AOL said that the Yamuna floodplain was chosen as venue for the WCF considering 'ease' of large number of people to commute to the location surrounded by roads and Metro rail.